A kindness remembered for 37 years
A retired French diplomat arrived in Taiwan on Wednesday to meet up with her benefactor from nearly four decades ago when she visited Taiwan's Lanyu (蘭嶼, known as Orchid Island) in 1977 and received kind assistance that she never forgot.
Monique Dodinet, 64, brought with her an old receipt dated April 10, 1977, for a flight with Taiwan Airline (which was later bought out and merged with UNI Air) from Lanyu to Taitung City, saying it represented a lifetime of friendship with her Taiwanese benefactor Chen Ching-cheng (陳清正).
When they met up on Wednesday, the two were delighted to reminisce about their encounter 37 years ago.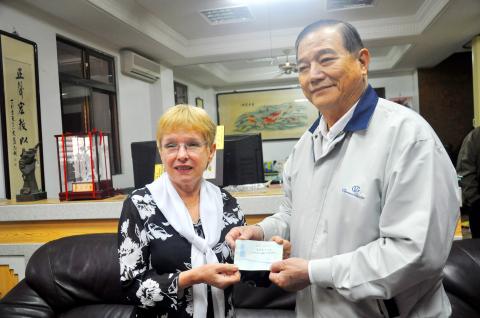 Retired French diplomat Monique Dodinet presents Chen Ching-cheng with a receipt for the flight she took from Lanyu to Taitung in 1977 as a thank-you gift after he paid for her flight almost 40 years ago.
Photo: Huang Ming-tang, Taipei Times
She presented the 1977 receipt to Chen, 73, as a thank-you gift for his benevolent deed in helping her.
"He did not know that I had kept the ticket for 37 years," the Frenchwoman said.
"I had been deceived, and lied to in other countries, and also got my passport stolen, but in Taiwan, I met a good person and I have never forgotten about him throughout these past decades," she added.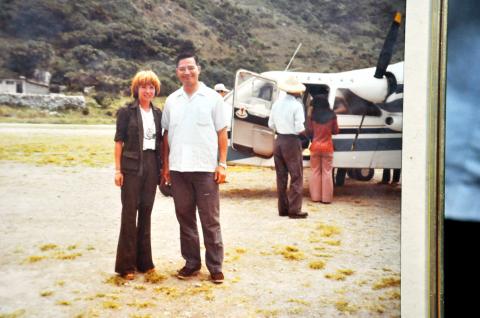 Monique Dodinet and Chen Ching-cheng pose on Lanyu before Dodinet left for Taitung on April 10, 1977.
Photo provided by Chen Ching-cheng
Chen, who had a three-year term as principal of Dongching Elementary School on Lanyu, recalled that in April of 1977, a military medic, who was fluent in English, took the ferry to Lanyu and brought along a young Frenchwoman who was traveling alone on a trip around the world.
"She wanted to stay in the traditional hut of the island's Tao Aboriginal people, but due to concerns over mosquitoes, we arranged for her to stay in our school dormitory," Chen said.
Then she had to wait for a few days for the ferry between Lanyu and Taitung City because bad weather had stopped the service temporarily.
Chen thought the Frenchwoman did not have enough money to take the flight, so he gave her NT$1,000 to buy her ticket to Taitung.
Months later, Chen received a thank-you letter from Dodinet, who informed him that she had started her job in the French diplomatic service, and was stationed at foreign embassies of different nations.
Chen continued to receive her updates until 1980, but when he moved residence the connection was broken.
The two did not reconnect until a decade later, after determined efforts by Dodinet to locate Chen.
Dodinet said she had often asked people she met on her travels whether they were Taiwanese, as part of her efforts to locate Chen.
The Frenchwoman said she spent half a year asking around in Paraguay, the only South American country that has formal ties with Taiwan, after she was assigned there, and finally met a Taiwanese pilot who succeeded in helping her locate Chen.
Retired from her job, Dodinet said she still loves to travel.
"At the time, I had enough money to buy the air ticket, but I wanted to stay on the island for a few more days. Chen was such a kind gentleman and supported me with money and the air ticket. I was very touched by it," she said.
"I've gotten to know more than 100 good friends during my worldwide trips, but Chen is definitely No. 1 on the list," she said.
Comments will be moderated. Keep comments relevant to the article. Remarks containing abusive and obscene language, personal attacks of any kind or promotion will be removed and the user banned. Final decision will be at the discretion of the Taipei Times.