Wiring money to China by post now direct
STREAMLINED: Postal account holders can now wire New Taiwan dollars from their accounts directly into yuan to an Industrial and Commercial Bank of China account
People can now use the postal service to remit money directly to China without exchanging the funds into US dollars first, Chunghwa Post said yesterday, adding that the money can reach the recipients' accounts in a day.
According to the postal firm, the remittance can be sent to 17,000 branches of Industrial and Commercial Bank of China and the processing fee for each transaction has been reduced to between NT$500 and NT$300 (US$16.50 to US$9.90).
Chunghwa Post chairman Philip Ong (翁文祺) said that the service is available in 165 of Chunghwa Post's 1,325 branches around the country.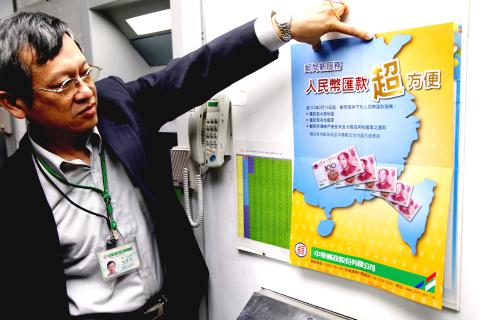 Shih Jung-hui, a clerk at the Jinshan S Road Post Offce in Taipei, displays a poster yesterday announcing the launch of Chunghwa Post's yuan remittance scheme.
Photo: EPA
He said that postal savings account owners can wire the money to China from their accounts, as long as they provide detailed information on the recipient.
In the past, a double exchange process was needed to change New Taiwan dollars into US dollars and then into Chinese yuan, taking two or three days to complete and involving a loss on the currency exchanges.
Mistakes sometimes occurred as a result of the information being translated into English and then into simplified Chinese. The same procedure applied to those wanting to remit money from China to Taiwan.
To promote the service, people remitting money to China between now and end of the May can enjoy a reduced processing fee of NT$250 per transaction.
Statistics from Chunghwa Post showed that about NT$1.3 billion was remitted to China last year, while about NT$400 million was wired from China to Taiwan.
The move follows the yuan remittance scheme offered by local banks early this month and is designed to service growing cross-strait trade, which totals about US$150 billion.
Meanwhile, Ong said that the postal firm plans to introduce a microinsurance policy by the end of this year, targeting clients from economically disadvantaged families.
Currently, the postal firm offers simple life insurance to the public, which accounts for 8.5 percent of the market.
Company life insurance department director Chen Shan-hua (陳裳華) said that the maximum insured amount under the microinsurance policy is NT$300,000.
While Chen said that the company has yet to calculate the premium for each microinsurance subscriber per year, she said that the payment would be only a few hundred NT dollars.
In addition, the postal firm plans to introduce new uniforms for its mailmen, scheduled to be unveiled in April or May, but the color of the uniform is to remain green, the company said.
Additional reporting by Staff reporter
Comments will be moderated. Keep comments relevant to the article. Remarks containing abusive and obscene language, personal attacks of any kind or promotion will be removed and the user banned. Final decision will be at the discretion of the Taipei Times.