Pet lovers urged to attend New Year's Day rally
The Pet Walker Association is hoping to draw 100,000 animal lovers for a flag-raising ceremony and other events in Taipei on New Year's Day to ring in the year on a high note.
Organizers said the rally, titled "100,000 Pet Owners, Together with Their 100,000 Hairy Kids," is to take place in front of Liberty Square on Wednesday.
"Together we will tell the government that we support the 'TNVR' [Trap/Neuter/Vaccinate/Return] campaign," the association's chief operating officer, identified only as Louis, said.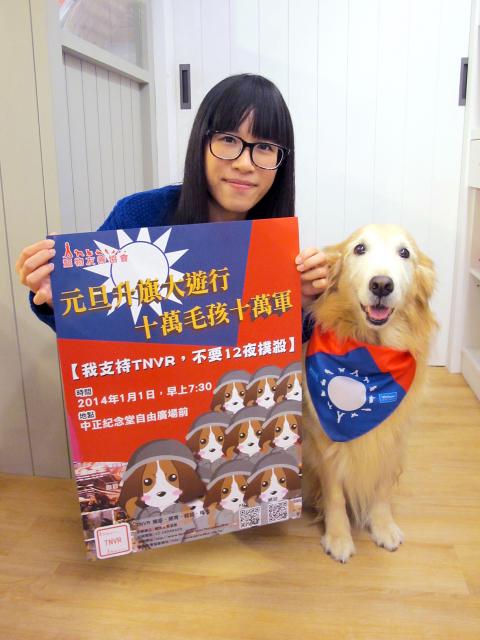 A woman holds up a Pet Walker Association poster on Dec. 20 encouraging pet owners to bring their pets to the New Year's Day flag raising ceremony in front of Liberty Square in Taipei.
Photo: Chen Wei-tzu, Taipei Times
The outbreak of rabies earlier this year led local governments and many members of the public to turn to outdated concepts and incorrect preventative measures, which led to many household pets being abandoned, Louis said.
"This resulted in a big increase of strays being captured and taken to local animal shelters and animal control centers. We have also seen horrible actions by people who poison and kill stray animals. We hope our peaceful rally and our voice of reason will encourage the public to think more about animal welfare," he said.
The ceremony is to start at 7:30am, with pet dogs serving as "guards of honor," he said, adding that here will be a petition in support of the "TNVR" campaign for people to sign at the rally.
The association has made 80 scarves printed with the blue-red-white design of the national flag for pets to wear.
People who sign the petition will be eligible for a lucky draw, with 50 of the scarves to be given away, Louis said.
Comments will be moderated. Keep comments relevant to the article. Remarks containing abusive and obscene language, personal attacks of any kind or promotion will be removed and the user banned. Final decision will be at the discretion of the Taipei Times.