Cold snap to continue tomorrow
WINTER CHILLS: With lows dropping to 9.6?C yesterday in Hsinchu, the current chilly spell is the nation's coldest recorded so far this year, the Central Weather Bureau said
A cold wave from the north led to snowfall yesterday in several of the nation's highest mountains, while simultaneously triggering higher air pollution levels in southern Taiwan.
Snowfall was reported in Tai
pingshan (太平山) in Yilan County, Lalashan (拉拉山) in Taoyuan County, Jianshih Township (尖石) in Hsinchu County, Hehuanshan (合歡山) in Nantou County and Wuling Farm (武陵) in Greater Taichung.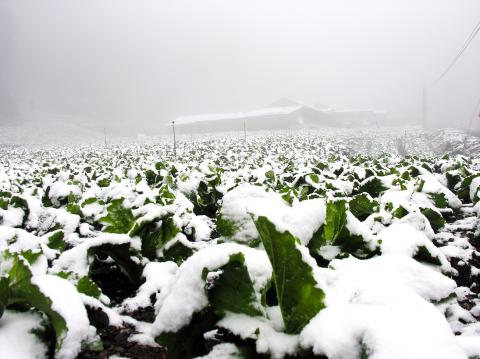 Wuling Farm in Greater Taichung experiences its first snowfall yesterday.
Photo: Chang Jui-chen, Taipei Times
Statistics from the Central Weather Bureau showed the lowest temperature on the plains was in Hsinchu, with the mercury dropping to 9.6?C early yesterday morning. The temperature in Taipei also dipped to 10.1?C.
The bureau said the temperatures have been the coldest so far this winter.
The cold snap also brought in pollutants from outside Taiwan, worsening air quality nationwide.
A duck made of snow is pictured at Tai pingshan in Yilan County yesterday.
Photo: CNA
Based on records at the Environmental Protection Administration, the density of suspended particulates — those with a diameter of 10 micrometers or less — was 1.6 times higher than normal.
About 70 percent of the polluted air was constituted of fine particles — those with a diameter of 2.5 micrometers or less. These particles pose a major threat to people with respiratory diseases.
Bureau forecaster Lo Ya-yin (羅雅尹) said the cold wave would continue to affect the nation into tomorrow, adding that temperatures in the plain north of Greater Tainan are likely to drop to less than 10?C in the early morning or at night.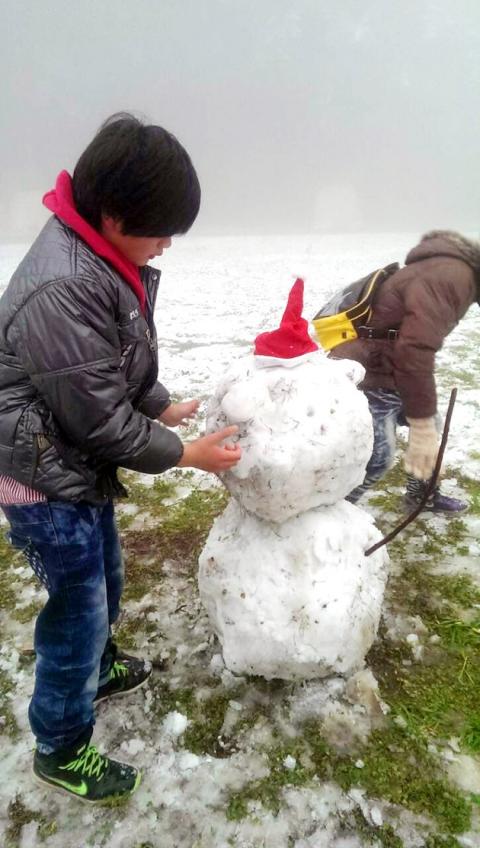 Hsinkuang Elementary School children make a snowman in Jianshih Township in Hsinchu County.
Photo courtesy of Hsinkuang Elementary School
Lows in other parts of the nation would also be between 12?C and 15?C. Though chances of showers in northern and eastern parts remain high, Lo said that rainfall duration would be shorter than that of earlier this month.
Cloudy to sunny skies are forecast for central and southern regions, but Lo said the range between daytime and nighttime temperatures in these parts could be as great as 6?C to 8?C.
Lo said that temperatures would start to rebound on Monday as the cold wave gradually weakens, although people planning to see the first sunlight of the New Year on the east coast may have problems, due to thick cloud, she added.
The lowest temperatures would be 13?C or 14?C in northern and central areas and 15?C or 16?C in the south during the New Year holiday, she said.
Isolated showers are likely to occur on northern and northeastern coasts, Lo said, adding that relatively stable weather is forecast for the west coast and outlying islands.
The bureau said the weather this month had varied significantly from the same month in previous years.
Starting on Dec. 12, Taipei experienced 16 days of consecutive rain. The last time this happened was in 1956, where the nation's capital saw 20 consecutive days of rain.
By Thursday this week, the accumulated rainfall in Taipei had topped about 220mm, which was the second-biggest accumulation historically.
The highest December rainfall was recorded in 1902, in which rainfall was 261.8mm.
"Consecutive days of rain was unusual for this month. Usually, the rain in December comes mainly through northeast monsoons, or after this frontal system leaves the nation," bureau head of long-range forecasting Chen Meng-shih (陳孟詩) said.
Chen said the long rainy days occurred because of humid air from the South Sea halfway through the month, which also caused the rain in central and southern Taiwan.
Comments will be moderated. Keep comments relevant to the article. Remarks containing abusive and obscene language, personal attacks of any kind or promotion will be removed and the user banned. Final decision will be at the discretion of the Taipei Times.