Dirty duck in Keelung resists cleanup operation
Dust and soot from passing ships in combination with bad weather is being blamed for the grimy appearance of Dutch artist Florentijn Hofman's Rubber Duck sculpture in Keelung.
The 18m inflatable duck is being dirtied by polluted air from smoke emitted by passing ships and deposited by the persistent rain brought by the northeast monsoon at this time of the year.
The yellow sculpture, which is made of polyvinyl chloride, has a grimy, stained appearance.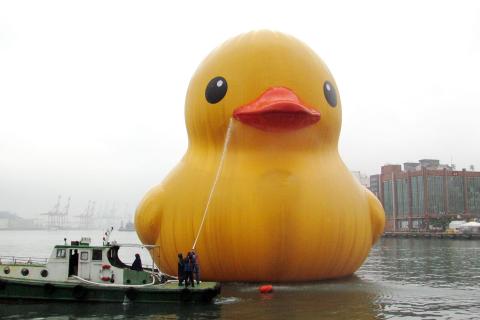 Workers clean the Rubber Duck inflatable sculpture in Keelung on Wednesday.
Photo: Lu Chien-hsiu, Taipei Times
After obtaining approval from Hofman, the display's organizer, the Keelung City Government, on Wednesday carried out a cleaning operation.
However, the attempt appeared to be unsuccessful. After the operation, which employed a high-pressure water hose and long-handle brushes, some of which broke during the cleaning, the duck does not look any cleaner.
Some netizens ridiculed the effort, saying the soot-stained surface was made worse.
"The blots under its eyes look like tear trails from the duck crying," a netizen wrote.
"The big dirty patches on its front make it look like the duck is growing chest hair," another said.
"If the duck gets any dirtier and darker, it will become Taiwan's ginger duck (薑母鴨)," another netizen said, apparently a reference to duck soup with ginger and rice wine for which restaurants commonly use a black duck as a logo.
Keelung is the third location in Taiwan to host the duck with its 50-day display of the floating sculpture. The two previous events in Greater Kaohsiung and Taoyuan County earlier this year drew more than 5.5 million visitors.
Comments will be moderated. Keep comments relevant to the article. Remarks containing abusive and obscene language, personal attacks of any kind or promotion will be removed and the user banned. Final decision will be at the discretion of the Taipei Times.