Coasts severely polluted: survey
WARNING SIGN: The nation's western coastline is already severely polluted from waste, wastewater and debris, although the eastern coastline could yet be saved
The Taiwan Environmental Information Association (TEIA) yesterday said its survey of the nation's coastline showed that many coastal areas in western Taiwan are seriously polluted, while eastern Taiwan is likely to face environmental damage in the future.
According to the results of the survey, the most seriously polluted coastlines belonged to five counties and cities in western Taiwan: Changhua County, Hsinchu County, Taoyuan County, Greater Kaohsiung and Greater Taichung.
The survey was mainly conducted by activist Huang Chun-nan (黃俊男) — who spent three months last year walking along the country's western coastline collecting information about the environment at 338 spots across 15 counties and cities.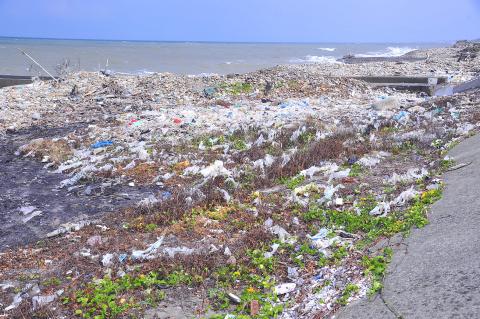 A section of coastline strewn with plastic and other pollution is pictured in an undated photograph taken in Hsinchu County.
Photo courtesy of the Taiwan Environmental Information association
Four indicators were used to grade the coastlines — industrial wastewater, industrial waste, degree of urban development and marine debris.
Assigning 10 points for the worst environmental damage in each indicator, the report gave Changhua and Hsinchu 35 points, Taoyuan and Greater Kaohsiung 34 points, and Greater Taichung 32 points.
Huang said that a total of less than 15 points would have been considered acceptable, but added that none of western Taiwan's counties or cities achieved a qualifying score.
Their report also stressed that in Changhua, coastal erosion may lead to a risk of saltwater intrusion in low-lying areas, and in Hsinchu, the coastline is receding and also that the illegal dumping of industrial waste has been going on for about two decades.
Huang said he found trash everywhere during his walk along the coastline, adding that some areas were so covered with waste and ocean debris that he was unable to step on the sand.
"Although significant damage to the coast has not yet been seen in eastern Taiwan, we should not take the situation there too lightly," said Allen Chen (陳昭倫), an associate research fellow at Academia Sinica's Biodiversity Research Center.
Based on many years of research and surveys of corals growing along Taiwan's eastern coastline, Chen said some rare species still grow in the area, but the dozens of resort hotel or amusement park projects — such as the Miramar Resort Hotel or Shanyuan Palm Beach Resort in Taitung that are planned for construction along the coast — pose a risk to the environment.
The researcher said the government should take warning from the damaged coastal environment in western Taiwan and protect the coastline of eastern Taiwan before it is destroyed by new development projects.
Comments will be moderated. Keep comments relevant to the article. Remarks containing abusive and obscene language, personal attacks of any kind or promotion will be removed and the user banned. Final decision will be at the discretion of the Taipei Times.