FEATURE: Mini-books change former dance teacher's life, health
A retired dance teacher in Greater Tainan has overcome a severe bout of depression and found a new purpose in life through making mini-books out of recycled paper, and in the process created a new art form that is admired in her community.
Ku Chiu-mei (古秋妹), founder of the Scarecrow Contemporary Dance Company, has in recent years turned her attention to self-made handicrafts and started her own line of "environmentally friendly mini-books."
Ku, a member of the Atayal Aboriginal community, for many years taught Buddhist dance at a school in the former Tainan City. She retired from teaching in 1995 and took on full-time care of her younger sister, who was suffering from a serious illness.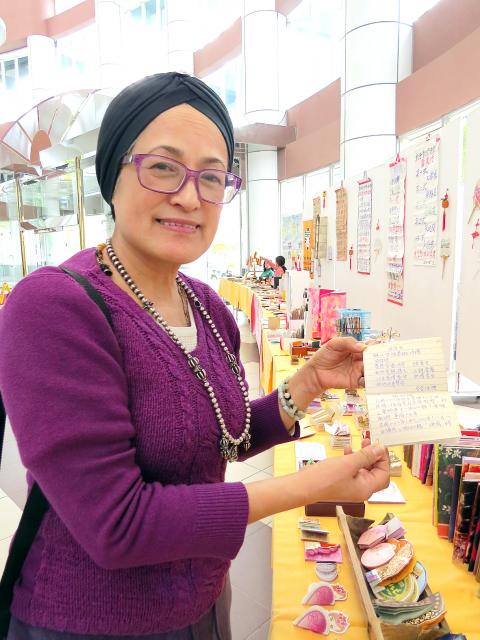 Scarecrow Contemporary Dance Company founder Ku Chiu-mei holds one of her handmade mini-books at an exhibition in the lobby of the Tainan City Council in Greater Tainan on Friday last week.
Photo: Tsai Wen-chu, Taipei Times
After eight years her sister passed away and Ku started suffering from depression.
"One day, during a severe period of depression, I saw my mailbox stuffed full of advertisements and pamphlets. I suddenly had an idea and started to categorize and sort the paper, cutting it up and cleaning it to turn into book covers. I then added inside pages, bound little books and added text," she said.
"The sheaves of loose paper became handsome, colorful little books, which are environmentally friendly because they are made out of recycled paper. Creating the books with my own hands soothed and comforted me. Within half a year my depression disappeared, without the aid of medication. After that, I turned all my attention into making the mini-books by hand," she added.
The pamphlets and advertisements, which most people regard as junk, were transformed into a repository of knowledge through Ku's creative skills. Some of her finest and most colorful products are viewed as works of art.
Ku said she has in the past eight years produced more than 1,000 mini-books, ranging in size from 0.5cm to 18cm across. The delicate pages of her smallest mini-books have to be handled with a pair of tweezers.
The 0.5cm-wide mini-books have 18 pages, filled with text written with a regular ink pen. Their contents include bopomofo phonetic symbols, the English alphabet, punctuation marks and Buddhist sutras, among many others.
"It takes at least an hour to fill the pages of one mini-book with text. Some of my larger books can have more than 70 pages," Ku said.
She added that the paper she uses to make her little books can originate from invitation cards, advertising pamphlets, holiday greeting cards, marriage announcement notices, tickets from trains and buses, or all types of entrance tickets.
She said the contents of her books range between many topics, such as religious texts, traveling tales, accounts of people's daily lives, musical scores, lyrics to songs, notes on Aboriginal culture, records of dance performances and anecdotes to encourage people.
"The most expensive mini-book I created was made out of ticket receipts from trips taken on the Taiwan High-Speed Rail. The 'most traveled' was one made out of an invitation card from Peru, where our dance company was invited to perform, and the book recorded the journey and our experiences there," Ku said.
Ku believes her lines of mini-books could earn a place in Guinness World Records, but she does not know how to apply for inclusion.
"I hope someone or an organization can help me with this application. Making mini-books is also one small contribution to Taiwan's environmental protection cause," she said.
Comments will be moderated. Keep comments relevant to the article. Remarks containing abusive and obscene language, personal attacks of any kind or promotion will be removed and the user banned. Final decision will be at the discretion of the Taipei Times.