'Dr Dog' seeks police intervention to stop owners from fighting
For many people, dogs are the glue that holds their family together, but for a married couple in Yunlin County's Dounan Township (斗南), their pet — a black Formosan dog nicknamed "Mei Mei" (妹妹) — went one step further by serving as their marriage counselor.
At about 10:40pm on Dec. 2, officers at the Dounan police station noticed the screen door at the precinct's front entrance being repeatedly pushed from the outside.
The officers checked the door and recognized Mei Mei, which they know because its owner, a man surnamed Tang (唐) who lives nearby, often drops in for a chat.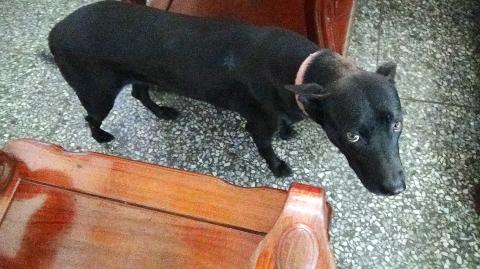 A black Formosan dog named "Mei Mei" looks up while standing near a tea table at a police station in Dounan Township, Yunlin County, on Dec. 2.
Photo retaken by Chan Shih-hung, Taipei Times
They did not let the dog in, thinking it was just wandering around the neighborhood.
However, Mei Mei did not leave and quietly waited by the door for an opportunity to go inside.
When Dounan Township Councilor Chen Ta-hua (陳大華) and his wife entered the station, the dog seized the opportunity to sneak inside.
Lai Kuo-pin (賴國賓), the precinct's deputy director, said that, once inside, Mei Mei had wandered around the station anxiously.
The dog stood by the door as if it wanted to go home and then sit beside a table, resting its head on a couch and staring at him with gloomy eyes, before going back to its post at the door, Lai said.
Since Mei Mei had never gone to the station alone, Lai said he began to worry that the dog was there because something had happened to its owners.
His suspicions seemed to be confirmed when Mei Mei's ears stood up when Lai said: "Let's stop by your house to make sure everything is OK."
When Lai and Chen arrived at the Tang residence, they found the couple having a huge argument about a family matter, which was apparently why Mei Mei ran to the police station for help.
Lai said that thanks to his and Chen's mediation — and Mei Mei's timely action — the couple resolved their argument peacefully.
Comments will be moderated. Keep comments relevant to the article. Remarks containing abusive and obscene language, personal attacks of any kind or promotion will be removed and the user banned. Final decision will be at the discretion of the Taipei Times.