Envoy, Lee pay tribute to Mandela
'HUMAN TOUCH': Taiwan's last ambassador to S Africa Loh I-cheng visited Mandela before the country's president at the time. Lee Teng-hui also called Mandela 'great'
Taiwan's last ambassador to South Africa, Loh I-cheng (陸以正), said he remembers the nation's former president Nelson Mandela, who died on Thursday, aged 95, as "a great leader with a human touch."
"Most nation-to-nation relationships are interest-driven and based purely on business. However, maybe as a result of the 27 years he had spent behind bars, Mandela had the human touch that was rarely seen in other political leaders... He will always be remembered for his humble demeanor," Loh said on Friday.
South Africa severed its 48-year diplomatic relationship with the Republic of China at the end of 1997 and established ties with the People's Republic of China in the following year.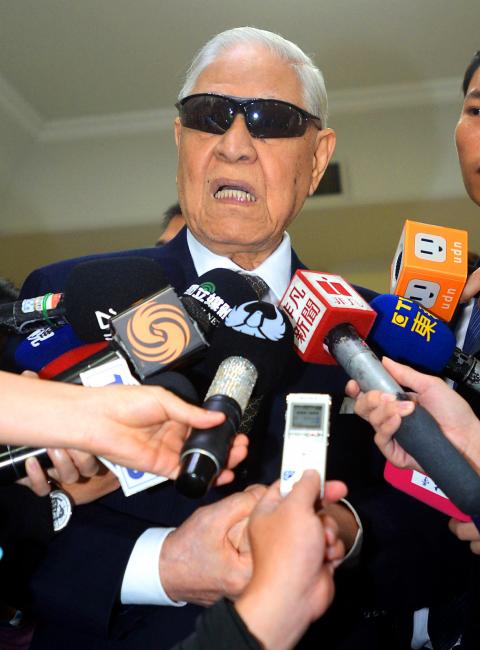 Former president Lee Teng-hui talks to the press after attending a forum organized by the Lee Teng-hui Association for Democracy at National Taiwan University in Taipei yesterday.
Photo: Wang Yi-sung, Taipei Times
Loh served as an ambassador to the African nation between 1990 and 1997.
Loh said the first person he met after he was posted to South Africa in November 1990 was not then-South African president F.W. de Klerk, but Mandela, who had been released in February that year after being imprisoned for decades as a political prisoner for fighting apartheid.
"I did so to embarrass the president at the time, because I was worried by rumors that had started circulating even before I moved to South Africa that its government was exploring the possibility of establishing diplomatic relations with China," Loh said.
"Therefore, I decided to pay Mandela a visit in his hometown before submitting my letter of credence [to De Klerk]. That visit helped lay a solid foundation for our friendship," Loh said.
Loh said that he and Mandela often talked and dined together, adding that they later became so close that Mandela even paid a visit to his residence in Taipei when he visited Taiwan in 1993 and that Mandela also invited him to a court hearing for his divorce case from Winnie Madikizela-Mandela, his second wife.
On South Africa's severance of ties with Taiwan, Loh said the decision was a result of many factors, including the South African Communist Party's (SACP) influence over the African National Congress (ANC), the ruling party, of which Mandela was the president.
The SACP is a partner of the tripartite alliance with the ANC and the Congress of South African Trade Unions.
"One night, at the end of 1996, Mandela invited me over for dinner. He told me in a roundabout manner that the SACP was pressuring him into making a decision that he would not have otherwise made, and that he would always remember the help Taiwan had given when he was most in need," Loh said.
Thanks to Mandela's warning, officials at Taiwanese embassies in the South African cities of Johannesburg, Cape Town and Durban had sufficient time to make the necessary arrangements for the expected severance of ties, Loh said.
Loh added that despite his government switching recognition to China, Mandela still personally saw him off at the airport and awarded him a medal that was regarded as his nation's highest honor.
"However, I was so infuriated by the end of our diplomatic relationship that I put on a long face when Mandela came to the airport. I even blatantly told him I would never wear the medal he gave me," Loh said.
Separately yesterday, former president Lee Teng-hui (李登輝) lamented the passing of Mandela, to whom he granted Taiwan's highest honor for foreign nationals, the Order of Brilliant Star with Special Grand Cordon, during Mandela's 1993 visit.
"Mandela was a great man who did many great things for the world, such as achieving racial equality. He did not treat people differently because of the color of their skin, and I admired him for that," Lee said. "A [united, democratic] South Africa would not have been possible without Mandela, whose determination to end social and global inequalities deeply impressed me."
Additional reporting by Lee Hsin-fang
Comments will be moderated. Keep comments relevant to the article. Remarks containing abusive and obscene language, personal attacks of any kind or promotion will be removed and the user banned. Final decision will be at the discretion of the Taipei Times.