Woman sued NHK 'for dignity'
A Paiwan Aborigine who recently won a court decision against Japanese public broadcaster NHK said her lawsuit was not about money, but about fighting for the dignity of her people.
The Tokyo High Court on Thursday ordered NHK to pay ¥1 million (US$9,800) in damages to Kao Hsu Yueh-mei (高許月妹) for defaming her by using the term "human zoo" in a program.
"The Japanese court cleared up the bad image created for our people. We were relieved upon learning of the decision," said Kao Hsu, whose Paiwan name is Vuvu.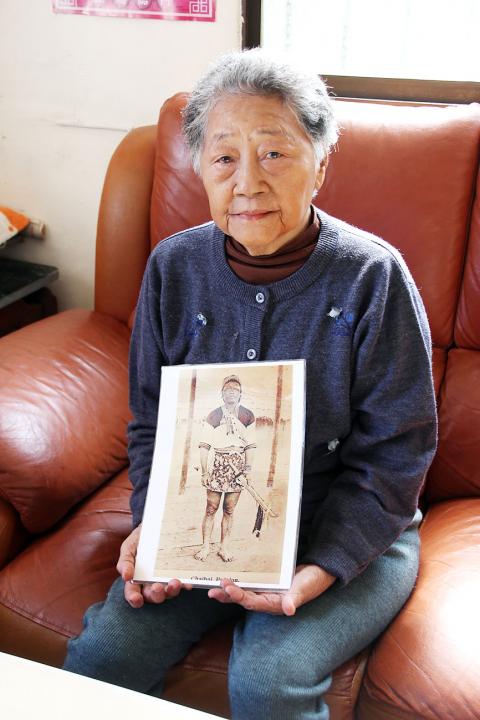 Kao Hsu Yueh-mei holds a picture of her father given to her by the Japanese public broadcaster NHK in Pingtung County's Mudan Township on Saturday.
Photo: Chen Yen-ting, Taipei Times
Vuvu lives in Gaoshih Village (高士) in Pingtung County's Mudan Township (牡丹).
Vuyu said that when NHK came to her village some years ago to make its documentary on the "Japan-Britain Exhibition" held in London in 1910, they produced old photographs from the exposition, which showed Paiwan Aborigines from her village and another nearby village.
Her village held a meeting, during which she was able to identify her father in one photograph. Because her family did not have any pictures of her father, Vuvu said she was overcome by emotion and cried upon seeing her father.
"At the time, I thought the NHK reporting would be positive, but while I was crying, I tried to say the Japanese word for 'sadness,' but mistakenly used the word for 'nostalgia.' However afterward NHK used it to distort my meaning," she said.
Chen Ching-fu (陳清福), a retired teacher who went to Japan to sue NHK and represent the Taiwanese plaintiffs, said they had made many attempts to clarify the matter.
"When I was interviewed with an interpreter, I informed NHK several times that the word should be 'sadness,'" he said.
"When the documentary was shown, they distorted Vuvu's words to portray her as nostalgic for the time when Paiwan Aborigines were sent to the 1910 exhibition in Britain during the Japanese colonial era," Chen said.
NHK also repeatedly used the term "human zoo" on the program, which was discriminatory and unacceptable, Chen said.
"Those people who went to the exhibition were in fact the elites of these Paiwan villages. They were held in high regard by our people. It was unthinkable for the program to pervert it as though they were dancing like monkeys," Chen said.
Hua A-tsai (華阿財), a former head of Mudan Township who wrote up the documents for the lawsuit, said the NHK documentary was a gross distortion.
"When they came to interview us, there was no mention of 'human zoo,' but it was there in the broadcast. They also misrepresented a mistaken word in Japanese to use it as evidence," Hua said.
Then they linked the unrelated matters together, to re-enforce the discrimination. I am very critical of such efforts to attract higher television ratings," Hua said.
He said that people who went to the 1910 exhibition in Britain were some of the best from those communities, and when they came back, they were able to teach youngsters the English language.
"It was quite an achievement," he said.
"Other colonies of Japan and Britain were also represented at the event, but the Queen of England only attended the performances by the Gaoshih villagers showing their hunting rituals and marriage ceremony," Hua said.
Hua added that the year after that, an English botanist came to visit and was received in the village by Vuvu's father, Chaibai Puiaion, and another village elder, Tivu Vanga Vang.
Hua said that originally the Paiwan only wanted an apology from NHK, but the broadcaster refused.
"The court ordered NHK to pay almost US$10,000 in damages for one individual only, not for the whole Paiwan Aborigine community. We are not totally satisfied with the decision, but we can reluctantly accept it," he said.
Comments will be moderated. Keep comments relevant to the article. Remarks containing abusive and obscene language, personal attacks of any kind or promotion will be removed and the user banned. Final decision will be at the discretion of the Taipei Times.