Activists decry Cabinet's new anti-flood budget
More than a dozen groups protested in front of the Executive Yuan and the Legislative Yuan yesterday against the Cabinet's proposed NT$60 billion (US$2 billion) six-year special budget for flood control and prevention, saying that it is nothing but a scheme to win votes.
"We are against the government spending our money as it pleases," and "The government is good at securing votes, but bad at flood control," representatives from the groups and dozens of Changhua County residents chanted at the protests, as they urged the Cabinet to review the results of previous flood-control projects before allocating more money.
"We are worried that the NT$60 billion six-year special budget will be a drain on the government's budget," Taiwan Alliance for the Protection of Water Resources spokeswoman Chen Chiao-hua (陳椒華) said.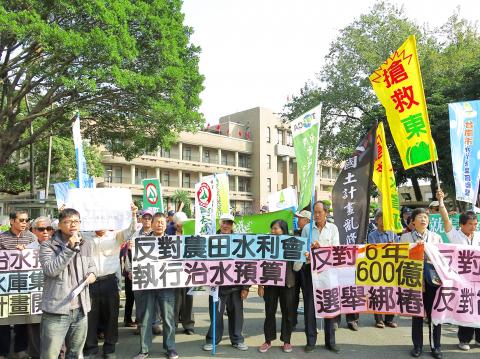 Environmental activists and Changhua County residents yesterday protest in front of the Executive Yuan in Taipei against its NT$60 billion flood-prevention proposal.
Photo: CNA
The six-year proposal was submitted by the Ministry of Economic Affairs last week. The Cabinet's current NT$116 billion eight-year Flood-prone Areas Management Plan finishes at the end of the year.
Chen said her group is also concerned that the proposed budget and the announcement of national land plans would make it easier to change land-use designations and to win approval for development projects, and may result in expanded development projects near reservoir catchment areas.
"The special budget does not need to be passed right away. We urge the legislators not to rush to pass it, but to hold public hearings to hear differing opinions," she said.
Taiwan Tree Protection Alliance convener Chang Mei-hui (張美惠) said that extreme weather has caused about 80 percent of the annual rainfall to precipitate only during rainy seasons, causing floods in rainy seasons and droughts at other times, so they are not against flood-control policies.
However, she said her group disapproves of the funding for local farm irrigation associations, which do not have the expertise to deal with floods.
Wu Li-hui (吳麗慧) of the Taiwan Environmental Protection Union's Changhua Office said that land subsidence is a very serious problem in Changhua, and the National Science Council has allocated billions to the Changhua Farm Irrigation Association to resolve the problem.
"We are against passing this huge budget and giving it to agencies that have no flood control expertise at a time when the government is in financial difficulties," she said.
Comments will be moderated. Keep comments relevant to the article. Remarks containing abusive and obscene language, personal attacks of any kind or promotion will be removed and the user banned. Final decision will be at the discretion of the Taipei Times.