Flickr launches new weekly video series in Taiwan
Flickr, the popular online photo-sharing site owned by Yahoo, has seen a huge increase in its monthly viewers in Taiwan since a traditional Chinese character version of its platform became available in the country in August.
Flickr now has more than 1.6 million unique viewers per month in Taiwan, an increase of nearly 40 percent compared with before the launch of its traditional Chinese character version, according to Yahoo. The US-based search engine said Flickr has strong potential in Taiwan, a market in which 72.4 percent of all Internet users, or about 12 million people, will share photographs this year.
Flickr now has about 300,000 new images uploaded daily from Taiwan, ranking the country third behind only the US and Britain, said Joann Chen (陳琚安), vice president of media network for the Asia-Pacific region at Yahoo.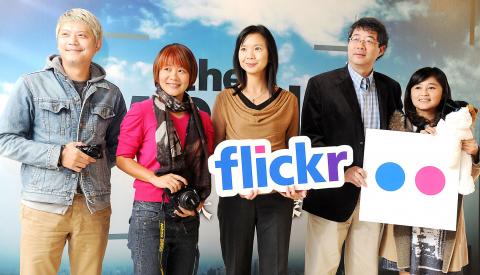 Joann Chen, center, vice president of APAC strategy and business operations at Yahoo, yesterday introduces documentary film director Chi Po-lin, second right, and guests as they share their photo-taking experience. The event was held by Yahoo-owned Flickr, an image and video hosting Web site.
Photo: Wang Min-wei, Taipei Times
"We have become the official image platform for various local activities and sporting events, including the championship series of Taiwan's Chinese Professional Baseball League and the Asia Series baseball tournament," Chen said.
"We hope to find more outstanding local photographers to share their touching stories on Flickr," she said at a news conference held yesterday to announce the Taiwan version of "The Weekly Flickr" feature.
The Weekly Flickr, launched in the US in December last year, is a weekly video series showcasing interesting, intriguing and beautiful photographs from Yahoo's Flickr community. Taiwan is the second country in which Yahoo has released the feature.
Yahoo initially invited four Taiwanese photographers to share their stories on three-minute videos that will be produced by Yahoo and displayed in successive weeks on Flickr starting yesterday.
The photographers include Chi Po-lin (齊柏林), director of the Taiwanese aerial documentary Beyond Beauty: Taiwan From Above (看見台灣) and Peggy Jian, whose photographs of Houtong (猴硐) helped the small district in New Taipei City (新北市) attract CNN attention as one of six places worldwide "where cats outshine tourist attractions."
Flickr, which launched a revamped version of its Web site in May with more space for storage and enhanced mobile support, now has 92 million users worldwide, who have contributed more than 8 billion photographs to the site.
Comments will be moderated. Keep comments relevant to the article. Remarks containing abusive and obscene language, personal attacks of any kind or promotion will be removed and the user banned. Final decision will be at the discretion of the Taipei Times.