Liang Chun-wu's sketches are being exhibited in Taipei
EYE-CATCHING: Liang's 'Mona Lisa' imitation attracted the attention of then-president Chiang Ching-kuo, who secured an arts scholarship for him in Europe
Master painter Liang Chun-wu (梁君午), most famous for his iconic portrait of Republic of China (ROC) founding father Sun Yat-sen (孫逸仙), is holding an exhibition in Taipei to present more than 40 of his sketches.
The 71-year-old Taiwanese artist said that as a young man graduating from the then-National Taipei Institute of Technology, all he wanted was to land a job and live a normal life.
However, Liang's fate changed when during his two-year military service he painted an imitation of Leonardo da Vinci's masterpiece Mona Lisa, which caught the eye of then-president Chiang Ching-kuo (蔣經國), who persuaded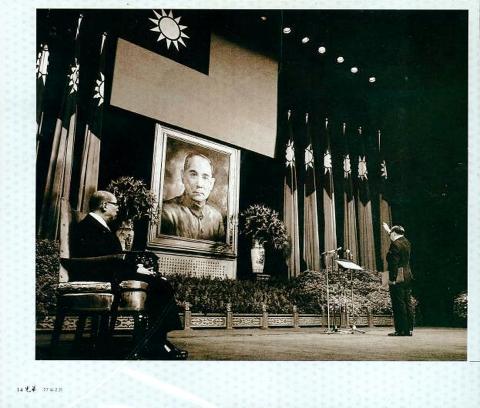 Late president Chiang Ching-kuo, right, takes the presidential oath before the portrait of Sun Yat-sen at the Sun Yat-sen Memorial Hall in Taipei in an undated photo. The portrait was painted by Taiwanese painter Liang Chun-wu.
Photo provided by Liang Chun-wu
Liang to further his arts training in Europe.
Chiang was convinced of the young man's talent and helped to secure him a scholarship at the Real Academia de Bellas Artes de San Fernando in Madrid, Spain. Liang then went on to become a renowned artist.
In 1975, the National Sun Yat-sen Memorial Hall in Taipei commissioned Liang to produce a giant portrait of Sun, the Chinese revolutionary leader and founder of the ROC.
"The most difficult was capturing Sun's compelling gaze, the facial expressions around his mouth, and bringing lifelike vividness to the portrait," Liang said.
"I made studies of Sun's writing, photographs of him and other portraits. Then I also studied human physiology and medical dissection lessons for this work. It took me more than one month to complete the painting," Liang added.
Liang's portrait of Sun was on display at the National Sun Yat-sen Memorial Hall for 25 years.
It has become an important part of the nation's history as Chiang Ching-kuo and later Lee Teng-hui (李登輝) were sworn in as ROC presidents in front of the iconic portrait.
The painting is now a national treasure, as one of the valuable artworks in the memorial hall's permanent collection.
Liang lived overseas for more than 40 years and his art has been exhibited in Europe, the US, China and Hong Kong.
He returned to Taiwan in recent years to teach at Tunghai University in Greater Taichung, to pass on his training and experience.
"Taiwanese students are modest in their manners, and are reticent to express themselves, but they have their own ideas on producing art. Some of their works are more audacious than that of European and US artists. They have a lot of potential," he said.
Comments will be moderated. Keep comments relevant to the article. Remarks containing abusive and obscene language, personal attacks of any kind or promotion will be removed and the user banned. Final decision will be at the discretion of the Taipei Times.