Ministry criticized over high-speed rail delay
Legislators across party lines yesterday criticized the Ministry of Transportation and Communications (MOTC) following the suspension high-speed rail services on Saturday, urging the Taiwan High Speed Rail Co (THSRC) to provide ticket discounts and threatening to refuse to review the ministry's budget.
A malfunctioning power supply caused services to be suspended between Yunlin and Changhua for about two hours, affecting about 32,000 passengers on Saturday.
The company only agreed to offer a full refund to passengers who were delayed more than an hour and a half refund for those delayed between 30 minutes and an hour.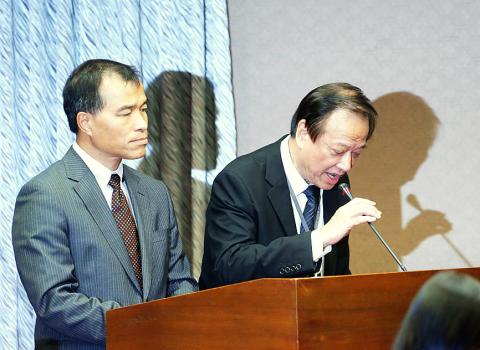 Minister of Transportation and Communications Yeh Kuang-shih, left, and Taiwan High Speed Rail chairman Ou Chin-der hold a press conference in Taipei yesterday to apologize for Saturday's suspension of the high-speed rail service.
Photo: CNA
At a meeting of the legislature's Transportation Committee, a motion was raised to suspend a review of the ministry's budget review and hold a question-and-answer session about the incident.
"The THSRC's service sucks. Why does it deserve to raise its ticket price?" Chinese Nationalist Party (KMT) Legislator Lin Kuo-cheng (林國正) said.
Democratic Progressive Party (DPP) Legislator Lee Kun-tse (李昆澤) said the company should give full ticket refunds and a free ticket as compensation, as was the case when high-speed-rail services were suspended on April 25.
DPP Legislator Wei Ming-ku (魏明谷) said he fears that if the ministry does not strictly monitor the THSRC's performance, similar incidents may occur in the future, or worse still accidents that could result in casualties.
"I also feel very sorry because the recent performance of the THSRC is indeed very disappointing," Minister of Transportation and Communications Yeh Kuang-shih (葉匡時) said, adding that while the incident occurred at 11am, the Taiwan Railway Administration was not asked to help move passengers until 1pm, which is unacceptable.
He said there has been a total of 64 train cancellations or delays since the THSRC started operating six years ago, seven of which were electricity-related and four caused by maintenance problems, rather than weather conditions or natural disasters, so the company needs to improve its maintenance performance.
"I think charging the passengers for half the distance they travelled and only refunding the other half is unreasonable," he said.
Arriving at the committee in the afternoon, THSRC chairman Ou Chin-der (歐晉德) eventually agreed to provide full ticket refunds to passengers that were affected by train suspensions between 11:16am to 1:39pm, who will also be offered an extra half-price ticket discount as compensation.
Answering accusations by DPP Legislator Kuan Bi-ling's (管碧玲) that early-bird discount tickets only benefit scalpers and travel agencies, Ou admitted that he had not considered this and would discuss the issue with company officials.
"Early-bird discount tickets that must be bought two to three months in advance do not benefit most people," Yeh said, adding that the company should respond to public disatisfaction by showing a sincere attitude and making more acceptable discount offers.
Ou said he hoped the company would come up with acceptable solutions to legislators' demands for ticket discounts and service improvement measures before the end of this month.
Comments will be moderated. Keep comments relevant to the article. Remarks containing abusive and obscene language, personal attacks of any kind or promotion will be removed and the user banned. Final decision will be at the discretion of the Taipei Times.