Groups protest S Korean program
Agricultural organizations have joined the growing protest against a negative report on South Korean TV criticizing Taiwan's tilapia aquaculture industry.
The protesters, led by Taiwan Agricultural Association chairwoman Chang Li-shan (張麗善), yesterday demanded that the station correct its report because it has seriously hurt farmers and resulted in huge export losses.
Chang said tilapia is one of the nation's best agricultural products and has received international recognition.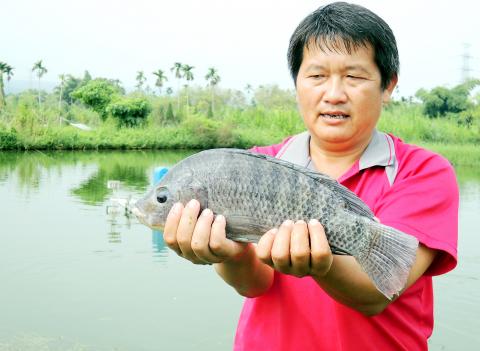 A man holds a Taiwanese tilapia at a fish farm in the Sinjie cold spring area in Nantou County's Mingjian Township yesterday.
Photo: Hsieh Chieh-yu, Taipei Times
Among the 24 fish farms certified by the Dutch-based Aquaculture Stewardship Council (ASC) worldwide, 12 are tilapia farms in Taiwan, the association said.
Also, the nation's products have been rated as a "good alternative" to the best choices in the tilapia category of the US-based Seafood Watch's rankings, the association said.
In a news program on Oct. 25, South Korea's Channel A said that Taiwan's tilapia farms exist in polluted environments. The program also implied that there was an overuse of antibiotics in raising the fish.
South Korean importers have reportedly suspended the importation of Taiwanese tilapia following the broadcast, which has seriously affected sales.
Taiwan produces 70,000 tonnes of tilapia annually, 60 percent of which is exported to the US, Canada, Saudi Arabia and South Korea.
South Korea is a major buyer, mostly in the form of frozen fillets.
The Ministry of Foreign Affairs said last week that it had contacted the TV station to ask for a correction of the news report.
Comments will be moderated. Keep comments relevant to the article. Remarks containing abusive and obscene language, personal attacks of any kind or promotion will be removed and the user banned. Final decision will be at the discretion of the Taipei Times.