Seven disabled artists hold show at legislature
With lawmakers agreeing to make an exception to the "one artist per exhibition" rule, seven artists with the Taiwanese Physically and Mentally Handicapped Arts Development Society opened a joint exhibition at the Legislative Yuan's cultural art gallery hall in Taipei yesterday.
More than 10 lawmakers, including Chinese Nationalist Party (KMT) Legislator Yang Yu-shin (楊玉欣) and Democratic Progressive Party (DPP) Legislator Lin Chia-lung (林佳龍), joined members of the society at a press conference for the opening.
Yang, who is in a wheelchair, said that the artists participating in the exhibition show great talent, but because of certain limitations, their talent has been overshadowed by the difficulty of trying to get by in life.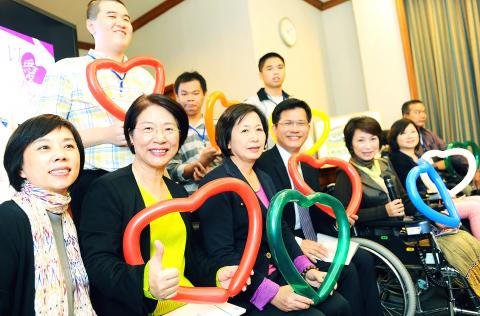 Artists from the Taiwanese Physically and Mentally Handicapped Arts Development Society and legislators hold heart-shaped balloons at the opening yesterday of an exhibition in the Legislative Yuan's cultural art gallery hall.
Photo: Chang Chia-ming, Taipei Times
"What they need most is to for their hard work to be seen by all, and what we have done is to create a chance for them," Yang said.
Pointing to one of her paintings, Huang Chi-chen (黃啟禎), who has autism, said: "The angel is playing golf, while the one watching is God."
However, when she saw reporters heading her way, she quickly hid behind her father, who said Huang painted it when Taiwanese golf player Yani Tseng (曾雅妮) had been injured.
Huang's father also said that his daughter likes to read different types of books, including comics, and would often use a pen to draw out characters or scenes when inspired.
He also praised the precision and attention to detail she pays to her drawings, which cover a wide range of topics — including politics, history, geography and fantasy.
Another of the seven artists, Chen Kuo-lung (陳國隆), started drawing after suffering an injury while working in the construction business.
Tsai Shang-shien (蔡尚賢), who has cerebral palsy, uses the "shoot from the hip" method of photography to create Impressionist-like nature scenes.
Lin, who has worked with the society for a long time, said he hoped the legislature's decision would encourage other government agencies to make their public spaces open for exhibitions by the physically and mentally challenged.
Lin bought one of the paintings on site to join his collection of art works in his office.
Society chairman Chang Tsui-hua (張翠華) said that the group's applications for venues to exhibit its works often end up being kicked around by different social welfare and government agencies.
"We hope the government will be able to establish a long-term cultural and creativity policy that would encourage other artistically inclined physically and mentally challenged individuals to make their visions come true," Chang said.
Comments will be moderated. Keep comments relevant to the article. Remarks containing abusive and obscene language, personal attacks of any kind or promotion will be removed and the user banned. Final decision will be at the discretion of the Taipei Times.