KMT blocks one bill every 18 seconds: civic groups
Civic groups yesterday panned Chinese Nationalist Party (KMT) legislators for blocking an overwhelming number of bills — essentially blocking a bill every 18 seconds — including many that are important to political reforms.
"The job of the Legislative Yuan's Procedure Committee is to review whether a proposed bill meets the criteria for further review, whether two bills should be merged and set the order in which they will be reviewed," Citizen Congress Watch (CCW) member Ku Chung-hwa (顧忠華) told a news conference at the legislature yesterday.
"However, the Procedure Committee has become an agency for the ruling party to filter bill proposals, allowing only bills they like to be discussed and reviewed," he said. "Lawmakers should respect the authentic functions of the committee and refrain from making de facto bill reviews in meetings of the committee."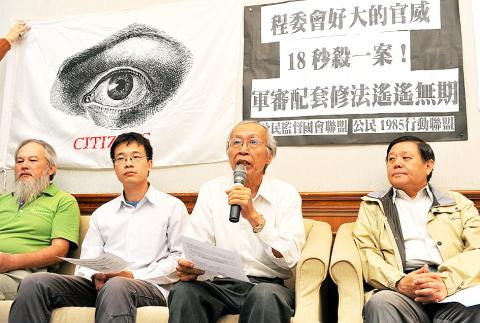 Members of Citizen Congress Watch and Citizen 1985 hold a news conference at the Legislative Yuan in Taipei yesterday to protest about the obstruction of bills by the legislature's Procedure Committee.
Photo: Chien Jung-fong, Taipei Times
CCW chairman Shih Hsin-min (施信民) said the committee has met only six times so far this legislative session, "but it has already blocked 965 bills."
"Since the average committee meeting lasts 30 minutes, that means it blocks 160 bills every session, or one bill every 11 seconds," Shih said.
The group did not say where it got its data, but legislative proceeding records are open to the public.
He went on to say that, despite President Ma Ying-jeou's vow (馬英九) to reform the Code of Court Martial Procedure (軍事審判法), various amendment proposals on relevant laws have also been blocked.
A representative of activist group Citizen 1985 surnamed Wang (王) echoed Shih, saying that since the amendments to the code were passed, "the KMT has been reluctant to pass amendments to relevant laws for no apparent reason."
CCW executive director Chang Hung-lin (張宏林) said that KMT caucus whip Lin Hung-chih (林鴻池) tops the worst offender list for greatest number of bills blocked, with 304, while KMT legislators Lin Hsu Shao-ping (徐少萍), Lee Guei-min (李貴敏) and Liao Cheng-ching (廖正井) are close behind.
Chang called on voters to jam the telephone lines of these lawmakers' offices as a protest.
Comments will be moderated. Keep comments relevant to the article. Remarks containing abusive and obscene language, personal attacks of any kind or promotion will be removed and the user banned. Final decision will be at the discretion of the Taipei Times.