NPA boss denies being focus of 'Next' womanizer story
NOT IN 'NEXT': Wang Cho-chiun told lawmakers that he has never had an affair or hired prostitutes after a magazine said the head of an intelligence agency had played around
National Police Agency (NPA) Director-General Wang Cho-chiun (王卓鈞) yesterday denied that he was the subject of a story in the latest edition of the Chinese-language Next Magazine about a head of an intelligence agency who has had several affairs and repeatedly hired prostitutes.
"I would like to tell you [the media] that the person mentioned in the report has nothing to do with me, it is absolutely not me. If you would like to know who the person is, please seek the answer from the magazine," Wang said.
"I would also like to tell all police officers in the country that their director-general has never, and will never do anything like what was reported in the magazine," he said.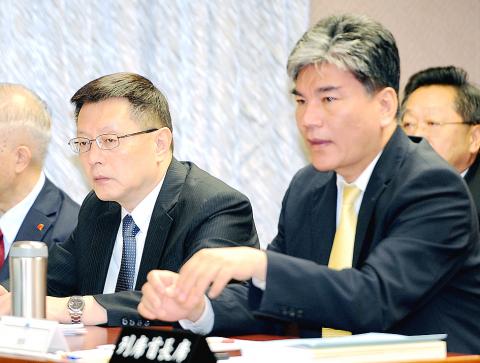 National Police Agency Director-General Wang Cho-chiun, left, and Minister of the Interior Lee Hong-yuan, right, appear at the Legislative Yuan yesterday.
Photo: Liao Chen-huei, Taipei Times
It its edition published on Wednesday, Next Magazine said the Agency Against Corruption discovered through wiretaps shortly after its creation that the head of an intelligence agency had had several affairs and was in the habit of hiring a prostitute every three days.
The magazine did not identify the official.
During yesterday's meeting of the legislature's Internal Administration Committee, Taiwan Solidarity Union Legislator Huang Wen-ling (黃文玲) asked Wang about the story.
Wang said he has never had an affair nor hired a prostitute.
"If I had done so, I would resign as director-general of the National Police Agency," he said.
Meanwhile, during a routine press conference at the Ministry of the Interior, Deputy Minister of the Interior Hsiao Chia-chi (蕭家淇), who worked with Wang in the then-Taichung City Government, said that from his personal knowledge of Wang, "he is not the kind of person who would do the things the magazine has reported."
Hsiao said he has known Wang for more than 20 years, since he was the director of the Taichung City Environmental Protection Bureau and Wang was the commissioner of the Taichung City Police Department.
"Wang always worked very hard on the job, and was very exhausted when he got off work, so I am sure he is not the kind of man the magazine has described," Hsiao said.
Comments will be moderated. Keep comments relevant to the article. Remarks containing abusive and obscene language, personal attacks of any kind or promotion will be removed and the user banned. Final decision will be at the discretion of the Taipei Times.