MOJ committee to ask Ker, Wang for interviews: report
The Ministry of Justice's (MOJ) Prosecutor Evaluation Committee is planning to request that Legislative Speaker Wang Jin-pyng (王金平) and Democratic Progressive Party caucus whip Ker Chien-ming (柯建銘) come explain their alleged roles in a case of improper lobbying, local media reported yesterday.
The Chinese-language Liberty Times (the Taipei Times' sister newspaper), reported that the evaluative body held a closed-door meeting on Saturday during which it decided to invite Wang and Ker to account for the allegations made against them by the Special Investigation Division (SID) of the Supreme Prosecutors' Office.
Citing evidence including telephone records and conversations recorded via a wiretap placed on Ker's phone, the SID accused Wang of asking then-minister of justice Tseng Yung-fu (曾勇夫) and Taiwan High Prosecutors' Office Head Prosecutor Chen Shou-huang (陳守煌) to take legal pressure of Ker in a breach of trust case.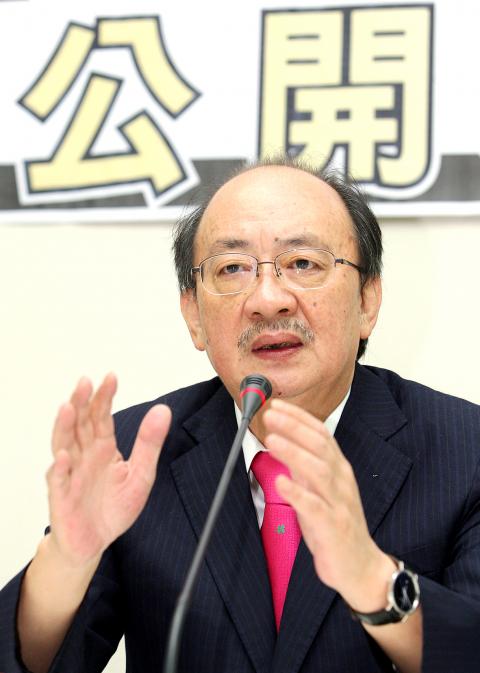 Democratic Progressive Party caucus whip Ker Chien-ming speaks at the Legislative Yuan in Taipei on Sept. 18.
Photo: CNA
The division did not wrap up its investigation into the case until Sept. 5, but Prosecutor-General Huang Shih-ming (黃世銘) allegedly leaked confidential information gathered from the wiretapping operation — which included the legislature's switchboard — to President Ma Ying-jeou (馬英九) during a visit to Ma's official residence on Aug. 31.
Ma later admitted that he also met with Premier Jiang Yi-huah (江宜樺) and then-Presidential Office deputy secretary-general Lo Chih-chiang (羅智強) later that day to discuss the issue further.
According to the Liberty Times, the committee on Saturday also discussed whether to invite Ma and Jiang to explain the SID's wiretapping of the legislature's switchboard.
Ker was quoted in the story as saying that the committee has no authority to summon legislators and he would not accept the invitation.
He added that under the Judges Act (法官法), the committee's mandate is to investigate flaws and wrongdoings on behalf of prosecutors, and does not include questioning legislators, therefore its request is illegal, the article said.
Deputy Minister of Justice Chen Ming-tang (陳明堂) said that according to the act, the committee is an independent investigation body whose decisions do not have to be reported to or approved by the ministry, but added that since it is not a judicial body, its requests for interviews can be rejected.
The 11-member committee is comprised of prosecutors, judges, attorneys and professors.
Comments will be moderated. Keep comments relevant to the article. Remarks containing abusive and obscene language, personal attacks of any kind or promotion will be removed and the user banned. Final decision will be at the discretion of the Taipei Times.