Ninety-year-old wins martial arts championship
UPHOLDING TRADITION: The retired physician said he has practiced martial arts for more than 70 years after his father advised him to learn the traditional Chinese sport
Ninety-year-old Ho Kuo-chao (何國昭) has proved that being old does not always mean acting old by wowing a panel of judges at a talent competition on Sunday with his sophisticated martial art skills, bagging the championship.
Leading a group of younger martial artists, Ho confidently brandished traditional weapons while doing five consecutive splits before performing drunken boxing. His performance also included several forward rolls and an ending pose of a left split, drawing a round of applause from audiences and judges and outperforming 11 other groups of elderly finalists.
The contest was organized by the Ministry of Health and Welfare and the Taiwan Catholic Foundation of Alzheimer's Disease and Related Dementia.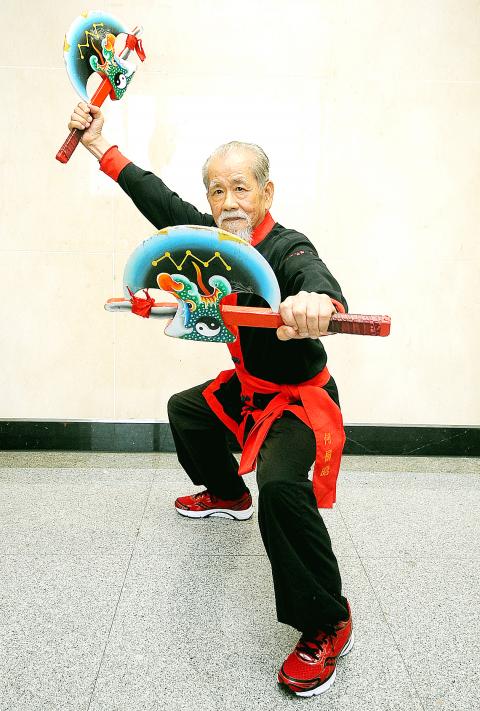 Ninety-year-old Ho Kuo-chao displays his martial arts skills in Taipei at a competition on Sunday organized by Ministry of Health and Welfare.
Photo: Fang Pin-chao, Taipei Times
Veteran actor Chin Shih-chieh (金士傑), who served as a judge for the competition, said jokingly that watching someone as old as Ho doing consecutive splits was a "horrifying" experience.
The skills staged by the younger performers also captured the essence of classic martial art movements and were equally fascinating, Chin said.
Taipei Jen-Chi Relief Institution director Tai Tung-yuan (戴東原), who joined the competition as a guest, said for a 74-year-old man who even had difficulty standing up from a tatami mat when visiting Japan, Ho's flexibility was rather impressive.
As the founder of Chien Hsing Martial Club in Greater Tainan, Ho said he has practiced martial arts for more than 70 years after his father advised him to learn the traditional Chinese sport to help boost his immune system.
After retiring as a physician several years ago, Ho followed in the footsteps of his father and grandfather, both of whom were doctors, and started teaching martial arts and Song-Jiang Jhen Battle Array (宋江陣) — a form of performing arts that combines elements of kung fu, dance and drumming — at local schools and temples.
According to one of Ho's students, winning the competition is a bittersweet moment for the 90-year-old, who had thought about retiring from the martial art circle after his wife of 63 years passed away about six months ago.
"It is the words of encouragement from my students that have reminded me of my mission to reinvigorate and pass down the national sport," Ho said.
Ho said he has decided to donate half of his NT$100,000 prize money to the Alzheimer's foundation, in a bid to help more elderly people who have also lost their "better halves" to walk away from the grief.
Comments will be moderated. Keep comments relevant to the article. Remarks containing abusive and obscene language, personal attacks of any kind or promotion will be removed and the user banned. Final decision will be at the discretion of the Taipei Times.