Glow-in-the-dark slippers donated to elderly
The Taiwan Textile Research Institute (TTRI) on Wednesday donated 960 pairs of slippers made of fiber materials that glow in the dark as gifts to help the elderly when they need to move about at night.
The slippers were presented to the Taipei Veterans Home in New Taipei City (新北市), which provides care to retired military servicemen.
Taipei Veterans Home deputy director Lee Hsing-chu (李興竹) said many retired military servicemen are getting older and need more attentive personal care.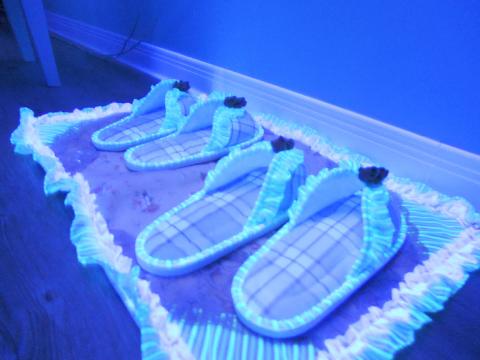 Slippers made of fiber materials which can glow in the dark are donated on Wednesday to the Taipei Veterans Home in New Taipei City by the Taiwan Textile Research Institute.
Photo: Tsai Ming-lun, Taipei Times
"After the lights go out at night, elderly people sometimes need to get up to go to the bathroom. When searching for footwear, the glow-in-the-dark slippers can help prevent falls and injuries. The slippers are good news for our residents," Lee said.
Bai Chi-chung (白志中) said the slippers are made from photoluminescent fiber, which absorbs and stores photonic energy from indoor lighting and does not harm the wearer's health.
"From the stored energy, the fiber can produce light for up to six hours," he said during an explanation of the process, which does not require electricity or batteries.
Besides slippers, TTRI produces dolls with photoluminescent fibers as companions for young children at bedtime, Bai said.
"With this new fiber material, we are also developing window curtains, table mats, foot pads and other home decorative products. We aim to help create safer and more energy-efficient homes," he said.
He said the institute's long-term aim is to help small and medium-sized enterprises in the textile industry apply this new technology to make higher-value commercial products and strengthen local textile companies so they can be more competitive internationally.
Comments will be moderated. Keep comments relevant to the article. Remarks containing abusive and obscene language, personal attacks of any kind or promotion will be removed and the user banned. Final decision will be at the discretion of the Taipei Times.