FEATURE: Couple's outlook sees them through crises
Nine out of 10 people who are suffering from cancer, investment failures or traffic injuries would say they are at the lowest point of their lives, but 71-year-old Tsou Yao-wen (鄒耀文) and his wife, 57-year-old Huang Pao-yu (黃寶玉), look at their glass as half-full, despite having experienced all three crises.
Born in a small village in Yilan County, Tsou grew up like most boys in the neighborhood and education was the last thing on his mind when he graduated from elementary school.
Dreaming of a better life, Tsou moved to Taipei when he was 14 and worked as a construction worker for nearly two decades before switching to selling fish at the age of 32.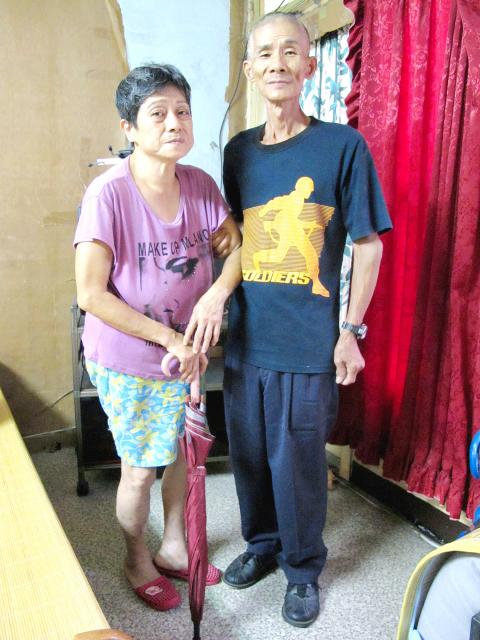 Huang Pao-yu, left, and her husband, Tsou Yao-wen, pose in their Taipei home on Friday. Huang is holding an umbrella that she uses as a walking stick as she has difficulty walking after hip replacement surgery.
Photo: Chen Wei-tzu, Taipei Times
When he turned 46, Tsou took a leap of faith and invested every cent of his hard-earned money — about NT$2 million (US$68,000) — in his friends' newly started shrimp-farming business.
Tsou had expected a handsome profit, only to see all his money go down the drain after the shrimp farm was struck by disease.
A year later, Tsou met the 33-year-old Huang via matchmaking and decided to get married despite their financial difficulties.
Although life was never easy, the couple found happiness in each other and supported themselves and their two daughters by setting up a stall on Taipei's Jilin Road selling sugarcane juice.
However, their happiness only lasted about three years, when Tsou was later diagnosed with first-stage nasopharyngeal cancer.
"One night, while I was sleeping, I suddenly had a nose bleed and I could feel the blood flowing back toward my throat. I had a strong taste of blood in my mouth and when I spit it out, it was pure blood," Tsou said.
Tsou said he did not shed a tear when the doctor broke the bad news to him, though he wondered why would such a disease strike someone like him, who had never smoked, drunk alcohol or chewed betel nut.
"When life throws me a curveball, all I can do is catch it," he said.
Tsou closed his business temporarily to focus on his health and spent his life savings on a two-month radiation therapy session.
Although the therapy helped bring Tsou's condition under control, it left him penniless again at the age of 50.
After recuperating at home for about a year, Tsou resumed his sugarcane juice business, working 18 hours a day, from 5am to 11pm.
Such long work hours would be unbearable for most people, let alone someone recovering from cancer. However, Tsou had no choice but to endure the hardship because his family was counting on him.
Just when Tsou thought his life was finally getting back to normal, misfortune struck again — his wife broke a hip after being hit by a bicycle-riding neighbor.
Rather than trying to square up with the neighbor, Tsou talked Huang out of seeking compensation from the man, saying that doing so could cause problems between the man and his wife, who are already short on money.
Huang was bedridden for a long time after she had hip replacement surgery, forcing Tsou to shut down his business permanently to take care of his wife around-the-clock.
"We had absolutely no source of income at the time and could only ask our parents for help," Huang said, adding that she has difficulty walking even now.
Although the couple's plight qualified them for a low-income family subsidy of NT$10,000 a month, they refused to rely solely on government welfare and decided to supplement their income by collecting recyclables.
Tsou then joined a local conservation volunteer group after he was finally cleared of cancer about five years ago, helping sweep the streets in his neighborhood and pick up trash in alleys.
"One day consists of 86,400 seconds and it's up to you to decide whether to spend the day in sorrow or in happiness," Tsou said.
As long as you can transform your mind, the circumstances that make your life bitter will pass away in time, he said.
Comments will be moderated. Keep comments relevant to the article. Remarks containing abusive and obscene language, personal attacks of any kind or promotion will be removed and the user banned. Final decision will be at the discretion of the Taipei Times.