Holiday KTV is first to raise its prices
OFF TUNE: The chain said revenues had plunged 20% and it was raising prices in response to power fee hikes. Some customers say they cannot afford higher prices
Holiday KTV is increasing its prices on the back of the second stage of electricity rate increases, the chain said.
The chain said it has found it impossible to sustain profits and have been forced to pass the additional cost on to customers.
The Holiday KTV store on Emei Street near Taipei's Ximending District (西門町), for example, has recently raised the basic fees per person — along with orders of food — from NT$520 to NT$550 during the peak period of 7pm to 11 pm on Friday and Saturday nights.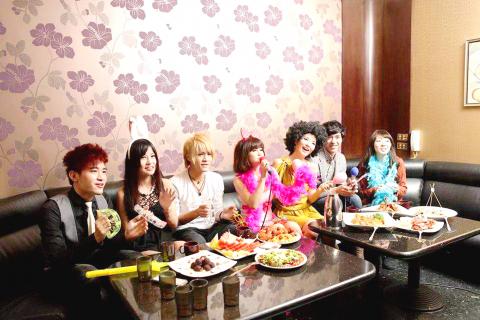 People sing and socialize at a KTV establishment in Taipei on Saturday.
Photo: Chiu-Shao-wen, Taipei Times
Consumers said the increase meant that the outlet made an additional NT$300 per 10 people, and complained about the price of food also going up.
A bowl of beef noodles, which used to cost NT$140, now costs NT$150, while chicken noodle soup, originally priced at NT$110, was now NT$140, consumers said.
However, the basic fees for renting a room have not changed, and the price of beer has been lowered slightly due to seasonal promotions, although it may be raised later.
Holiday spokesperson Lai Hsin-hung (賴欣洪) said that overall revenues for the chain across the nation had plunged by 20 percent this year.
Lai added that in addition to the slowing economy, inflation and now electricity rate hikes had contributed to the slight rise in prices across the chain's outlets in the Greater Taipei area.
Pointing to the chain's medium-sized outlets as an example, Lai said that on average the outlets had to pay NT$550,000 more for electricity last month than in August.
Lai added that during the summer, electricity fees may reach between NT$700,000 and NT$800,000.
Electricity costs eat up about 10 percent of the chain's revenue on average, Lai said, adding that the outlets had compensated by turning off the lights in public areas on all floors to reduce electricity bills.
Other KTV chains, such as Cashbox and New CB Party, said they currently do not plan to raise prices, but added that they would make a final decision after receiving their electricity bills next month.
Commenting on the matter, an office worker surnamed Chou (周) said that if Holiday, which is known for its lower-than-average prices, was raising its prices, he would have to cut down on his entertainment expenditures.
A college student named Chen Ming-wen (陳明文) said that KTV establishments have been a favored location for family gatherings or friends' birthday parties, but if the prices continued to rise, other alternatives would have to be found. Chen said students could not afford the fees now being asked of them at KTV establishments.
Comments will be moderated. Keep comments relevant to the article. Remarks containing abusive and obscene language, personal attacks of any kind or promotion will be removed and the user banned. Final decision will be at the discretion of the Taipei Times.