Chiayi County gears up for Creative Bike Festival
People interested in costume play can flex their muscles at the Dapu Creative Bike Festival in Chiayi County next month, the Tourism Bureau said yesterday.
The event is part of this year's Taiwan Cycling Festival, which will run from Nov. 9 to 17.
Tourism Bureau Deputy Director-General Wayne Liu (劉喜臨) said the event is scheduled to take place on Nov. 17.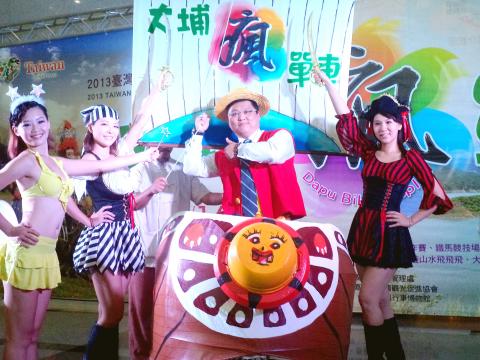 Tourism Bureau Deputy Director-General Wayne Liu, center, and models appear in fantasy costumes at a promotion yesterday for the Dapu Creative Bike Festival, which is part of the Taiwan Cycling Festival scheduled for Nov. 9 to 17.
Photo: CNA
He said that there would be a competition in which contestants ride bikes they have decorated across a log bridge while wearing different costumes.
Liu said that the log bridge competition was inspired by a story set in Dapu Township (大埔), Chiayi County.
It is said that the water in the Longchiao River (龍蛟溪) in Dapu was surging rapidly at the beginning of the 20th century because one big log was wedged between bridge piers.
Seeing that the water was about to inundate the village, the residents prayed to Xuan Wu, the Mysterious Heavenly Upper Emperor (玄天上帝), one of the most revered Taoist deities.
The log was carried away by the water soon after residents finished their prayer, and they return the favor every year through lavish worship.
"The competition will not only test the contestants' ability to control their bicycles, but it will enrich the cultural meaning of the event," Liu added.
Aside from the competition, creative bicycle riders can also enjoy a bike ride on a 4km route through Dapu.
The organizer will also invite mascots from amusement parks around the country, as well as performers from seven other countries to join a parade at the festival.
Meanwhile, a "Bicycle Story House" (鐵馬故事館) will also be set up in Dapu during the festival to present the evolution of the use of the bicycles in Taiwan.
At a press conference, the bureau exhibited a bicycle that was able to carry 300kg of goods.
The bureau said the bicycle itself weighs 40kg and was used by people in the 1950s and 1960s to load goods for delivery or for sale.
Because of its ability to carry heavy items, the bicycle was known as the "Taiwanese Ox."
Visitors can see historic bicycles, including the bicycles used by the Japanese police during the colonial era and those used by the mail carriers.
Comments will be moderated. Keep comments relevant to the article. Remarks containing abusive and obscene language, personal attacks of any kind or promotion will be removed and the user banned. Final decision will be at the discretion of the Taipei Times.