DPP continues blockade of Jiang's legislative report
The Democratic Progressive Party (DPP) yesterday continued to boycott Premier Jiang Yi-huah's (江宜樺) report to the legislature as Jiang refused to apologize for what the DPP claims is his "infringement of the separation of powers and contempt of the Legislative Yuan."
Jiang has been unable to deliver his required report since the current legislative session began on Sept. 17 due to disagreement over the demand made by the DPP, which has staged boycotts in four consecutive legislative plenaries.
Two-party negotiations convened by Legislative Speaker Wang Jin-pyng (王金平) yesterday again failed to resolve the impasse, forcing Jiang and Cabinet members to leave the legislature floor.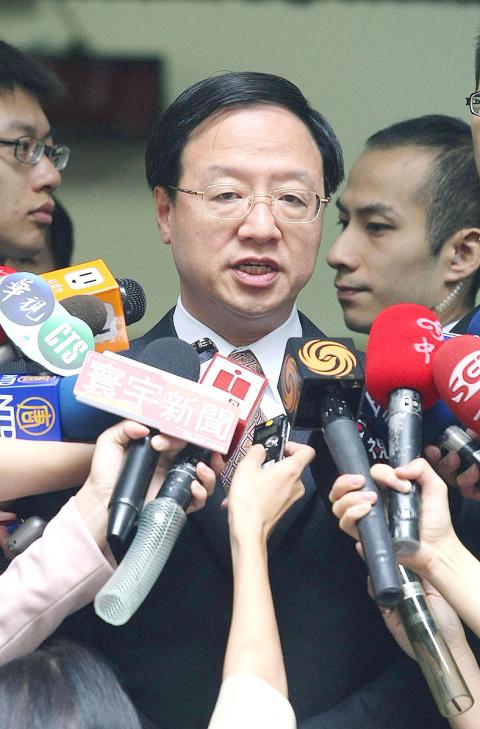 Premier Jiang Yi-huah talks to reporters at the Legislative Yuan in Taipei yesterday after he arrived to present a report.
Photo: CNA
However, the negotiations managed to reach a consensus that the central government's budget plan for next year be sent to eight legislative committees for review, despite the absence of Jiang's oral report on the budget plan.
The premier is required to issue the report to the legislatures by the Budget Act (預算法).
The DPP insisted that Jiang apologize for a comment in which he described Wang as "incompetent" and for his appearance at a press conference in which President Ma Ying-jeou (馬英九) accused Wang of improper lobbying, actions which the party says constitute an infringement of the constitutional separation of powers.
The lobbying accusations led the Chinese Nationalist Party (KMT) to revoke Wang's membership, sparking a political storm as critics slammed the move as the president's bid to remove the speaker.
Wang challenged the KMT's cancelation of his membership in court and won the injunction suit. Wang has been provisionally allowed to keep his KMT membership, as well as his position as a KMT legislator-at-large and legislative speaker.
While Jiang yesterday refused to apologize for his previous comments concerning Wang, an Executive Yuan official said on condition of anonymity that the premier would like to express regret for the disturbances caused by the wiretapping of one of the legislature's switchboards by the Supreme Prosecutors' Office Special Investigation Division.
Additional reporting by Shih Hsiu-chuan
Comments will be moderated. Keep comments relevant to the article. Remarks containing abusive and obscene language, personal attacks of any kind or promotion will be removed and the user banned. Final decision will be at the discretion of the Taipei Times.