Hundreds grieve for Dapu man
IN LOVING MEMORY: The wife of Chang Sen-wen, who was found dead after his home was demolished, said: "We all know it was the government that killed him"
Hundreds of people — including family members, friends and activists — vowed at Chang Sen-wen's (張森文) funeral yesterday that they would make sure justice is served as they bade farewell to a former resident of Dapu Borough (大埔), Miaoli County, who was found dead earlier this month.
A large blue tent was set up on the site where the Changs' house once stood.
Only two months ago, on the site that is now only a paved road, stood the house where the Changs lived for more than 30 years.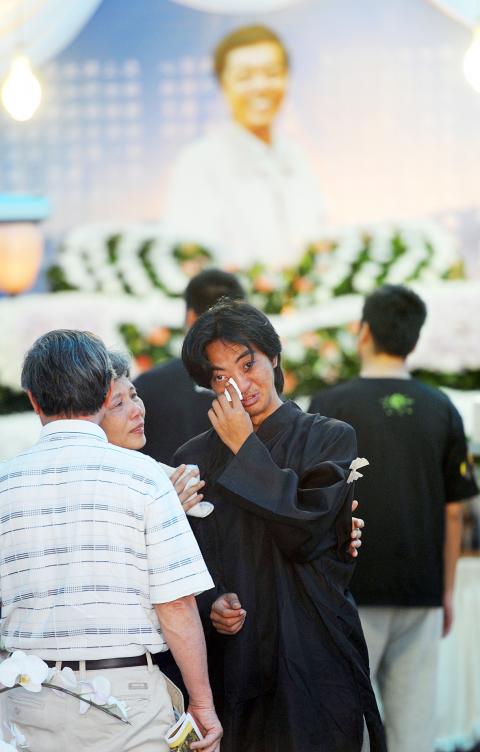 Chang Yuan-hao yesterday wipes away tears at the funeral of his father, Chang Sen-wen, a former resident of Dapu Borough in Miaoli County who was found dead earlier this month.
Photo: Lo Pei-der, Taipei Times
Also previously on the site was a pharmacy that served as an important source of income for the family who lived on the first floor.
However, more than five years of protests, petitions, negotiations and promises from government officials, came to naught when a demolition squad escorted by hundreds of police officers was sent by the Miaoli County Government to tear down the house, on a day when Chang was hospitalized, and his wife, Peng Hsiu-chun (彭秀春), and their supporters were in Taipei, pleading for the government to leave them alone.
Death cause Unknown
Earlier this month, Chang was found dead in an irrigation channel only about 200m away from the site where his house used to stand, after he had been missing for 12 hours.
At the moment, the actual cause of his death remains unknown.
"It's no longer important whether my husband was murdered, fell into the water by accident, or committed suicide, because however he died, we all know it was the government that killed him," Peng said.
Remembering her husband, Peng said that Chang was a loving and caring husband.
"I know he was already on the edge of mental and physical collapse, but he still tried to give full support to me. He would pat my head to help me sleep at night, worrying that I would be too anxious to fall asleep. He did so even on the night before he passed away. It was only a few days ago," Peng said.
Strong for children
Peng added that while she still feels the pain and suffers the grief from the death of her husband, "I will overcome the challenges for my children."
Taiwan Rural Front secretary-general Frida Tsai (蔡培慧) lamented Chang's death, saying: "Despite the powerlessness and disappointment he felt in his fight against monstrous government institutions, we all witnessed and admired his courage and determination in defending his home."
Meanwhile, Hakka singer and songwriter Chen Yung-tao (陳永淘) wrote a song that urges people to rise up against the government in the pursuit of justice.
Besides relatives and friends of the Changs, attending the funeral were film directors Leon Dai (戴立忍) and Chen Wen-pin (陳文彬), and former vice president Annette Lu (呂秀蓮), as well as members of organizations protesting against different development projects in Miaoli, Hsinchu and Taoyuan counties as well as Greater Tainan.
Comments will be moderated. Keep comments relevant to the article. Remarks containing abusive and obscene language, personal attacks of any kind or promotion will be removed and the user banned. Final decision will be at the discretion of the Taipei Times.