Shelter workshops offer unique gifts
MOONCAKE ALTERNATIVES: The options for Mid-Autumn Festival gifts include handmade wooden chess sets, colorful orchids or handmade ceramic cups
Imagine drinking hot oolong tea from a hand-molded ceramic cup, using large chess pieces the size of a coffee mug to play chess with your grandfather and enjoying the beauty of orchids under the moonlight this Mid-Autumn Festival.
A number of shelter workshops for the mentally challenged are providing those items and more for the Mid-Autumn Festival, which falls on Sept. 19 this year.
Chiu Jung-hsin (邱榮炘), founder of Hwa Yen Development Center in Miaoli County's Sihu Township (西湖), runs craft and carpentry classes for 60 people who are mentally challenged or have autism.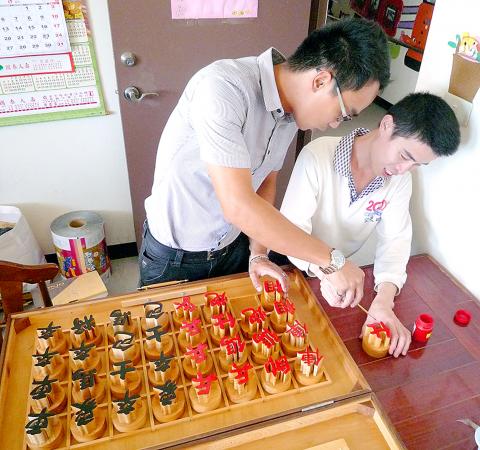 An instructor assists a student carving pieces for a large Chinese chess set at the Hwa Yen Development Center in Miaoli County's Sihu Township on Sunday.
Photo courtesy of the Hwa Yen Development Center
He said the idea of making large chess pieces was inspired by seeing elderly people playing chess at temples and under banyan trees, who often seemed to be troubled by vision difficulties or fingers that are less flexible then they once were.
The big chess pieces made out of raw wood are about 8cm in diameter, four times the size of normal pieces, while the board is 68cm by 47cm, 9cm thick and weighs about 6.8kg, he said.
Liu Ping-sheng (劉萍生), director of the center, said making a chess set — from printing the font, tracing them with paper, cutting the pieces out, painting and sanding — takes 10 people about two months to do.
Only those with better coordination are allowed to do the carving, and every stroke of a Chinese character must be carefully carved, or else the carver could be hurt and the chess piece ruined, Liu said.
The chess sets cost NT$5,000 and have proven popular with community recreation centers, he added.
Meanwhile, in view of the many mooncakes flooding the market ahead of the festival, the Ching Shing Social Welfare Foundation-affiliated Yuan Xiang Shelter Flower Farm in Yunlin County's Huwei Township (虎尾) is suggesting its potted moth orchids as a holiday gift.
It provides a variety of orchids, including an indigenous species of white or ivory-colored orchid named "Taiwanese Grandma" as its signature orchid, as well as several brightly colored varieties, foundation executive director Wen Chih-lien (溫芷蓮) said.
The flower farm is about 700 ping (2,314m2), and has 18 student workers who tend to the plants.
The orchid sprouts grow about 6.35cm in four months, when they are moved to bigger pots and sent to Alishan (阿里山) to flower before they are ready to be repotted into decorated containers, she added.
A employment service center in Greater Kaohsiung's Meinung Township (美濃) that works with people who are mentally challenged is selling three types of handmade ceramic cups, priced NT$350 to NT$450 each.
The center's owner, Chen Su-lan (陳素蘭), says the students at the center have trouble with pottery throwing, and the success rate is only about 50 percent to 80 percent.
"However, holding one of these ceramic cups gives you a warm feeling because they are handmade by these children, they look different and are especially cute because of their short and round shape," she said.
Comments will be moderated. Keep comments relevant to the article. Remarks containing abusive and obscene language, personal attacks of any kind or promotion will be removed and the user banned. Final decision will be at the discretion of the Taipei Times.