Opening of lighthouses to tour groups delayed
DIMMED LIGHTING: Two lighthouses are to open in November, but the Cilaibi Lighthouse will stay closed until next year, much to the dismay of Hualien's tourism
The public opening of the lighthouses on Green Island (綠島), Taitung County, and Taoyuan County's Baishajia (白沙岬) has been delayed by two months until November, the Ministry of Transportation and Communications said, while Hualien County's Cilaibi (奇萊鼻) Lighthouse will not start receiving tourists until sometime next year.
Minister of Transportation and Communications Yeh Kuang-shih (葉匡時) toured the Cilaibi Lighthouse and the Cisingtan (七星潭) Scenic Park in May during a visit to Hualien Port.
Citing the beauty of the surrounding scenery, Yeh urged ministry officials to open the lighthouse to tourism as soon as possible to boost the local tourism industry.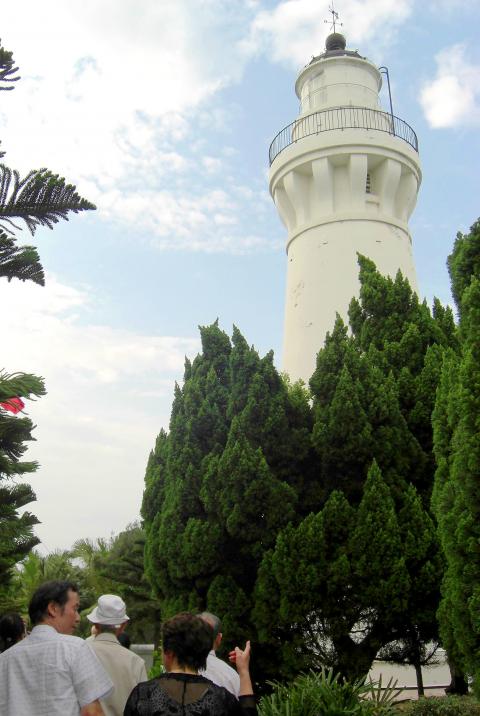 Tourists visit the Baishajia Lighthouse in Taoyuan County's Guanyin Township on July 20.
Photo: Lee Jung-ping, Taipei Times
The Maritime and Port Bureau has said the lighthouse would be included in the next wave of lighthouses to be opened next year.
The Cilaibi Lighthouse was built by the Japanese in 1931. It was leveled by US bombs during World War II, but was rebuilt in 1963 when the Customs Office expanded the Hualien Port.
With a height of 13.4m and a focal height of 33.4m, the lighthouse's beacon can be seen from 16.6 nautical miles (30.7km) away, bureau officials said.
A cycling path in the Cisingtan Scenic Park passes by the lighthouse, making the structure a promising scenic spot if it is opened to the public.
The owner of a hostel close to the lighthouse, surnamed Lin (林), said guests planning to visit the park often ask him if the lighthouse is open to the public.
Connecting the park with the lighthouse would enhance the area's tourism industry by offering visitors the opportunity to climb the lighthouse to get a fantastic view of the Pacific Ocean, which would be a great selling point, he said.
Aside from the potential economic benefits, the lighthouse serves as a prominent landmark in the area, as it is the first thing visitors see when arriving by boat, Lin added.
Comments will be moderated. Keep comments relevant to the article. Remarks containing abusive and obscene language, personal attacks of any kind or promotion will be removed and the user banned. Final decision will be at the discretion of the Taipei Times.