Man's billboard protests service pact
A billboard manufacturer in Yunlin County's Douliou City (斗六) recently made a billboard depicting a caricature of President Ma Ying-jeou (馬英九) to protest what he said was the indifference of the Ma administration to public opinions on the cross-strait trade services agreement.
The man behind the billboard, Liao Pin-cheng (廖彬成), 45, has been making and designing billboards for 16 years, and said he has always had an interest in political cartoons.
Standing tall in one of Douliou's busiest intersections on Daxue Road and Chenggong Road, the caricature depicts Ma's head on the body of a crab with a wrench in one of his claws. The face is exaggeratedly elongated and a speech bubble coming out of its mouth reads: "Follow me."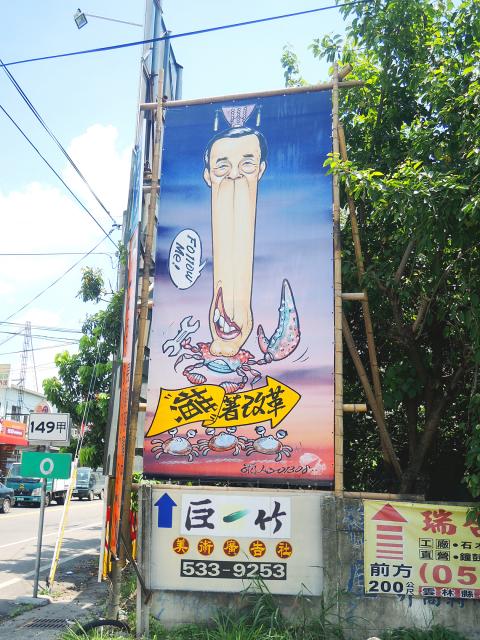 A caricature of President Ma Ying-jeou commissioned by Douliou City resident Liao Pin-cheng is displayed yesterday at the intersection of Dasyue Road and Chenggong Road in Douliou, Yunlin County.
Photo: Huang Shu-li, Taipei Times
Underneath Ma stand three tired-looking smaller crabs holding a banner reading: heng zhe gai ge (sideways reformation, 橫著改革). The word heng (sideways) is a double entendre as it pokes fun at the Ma administration's touting of reforms while not taking any action and can also be interpreted as: "to be domineering."
Liao said the billboard was not meant to generate any commercial profit for his business, but to serve as a channel for him to vent some of the helplessness he felt.
"I also hope that it can inspire people to become more concerned with politics and remind them to be more cautious when casting their ballots in future elections," Liao said.
"The signing of the pact without the consent or knowledge of the public is yet another example of the Ma administration's arbitrariness in devising policies and its indifference to the sufferings of Taiwanese," he said.
"Despite the central government's continued assurances that the agreement is going to be beneficial to the nation, the truth is the complete opposite. The pact will harm Taiwan's interests if it is implemented," Liao said, adding that the deal would introduce the possibility of many workers in the tertiary sector being laid off.
"If the government cannot be persuaded to turn a sympathetic ear to the people's suffering, then the people will no longer expect anything from the government," he added.
The agreement was signed on June 21 by the Straits Exchange Foundation and the Association for Relations Across the Taiwan Straits in Shanghai.
Under the pact, Taiwan would open 64 sectors in its service industry to Chinese investment, while China would open 80 sectors to Taiwanese businesses.
Comments will be moderated. Keep comments relevant to the article. Remarks containing abusive and obscene language, personal attacks of any kind or promotion will be removed and the user banned. Final decision will be at the discretion of the Taipei Times.