Grandmother crafts straw effigies for Taoist rituals
While many may feel a certain discomfort around straw figures used in Taoist ceremonies to dispel bad luck or drive away evil spirits — especially during the seventh month of the lunar calendar, which is traditionally known as Ghost Month — Chien Hsu Ming-hsia (簡許明霞), an 85-year-old grandmother in Taoyuan County's Guanyin Township (觀音), has made a career out of it.
In Chinese tradition, Ghost Month is a period during which the spirits of the dead are allowed back into the mortal world, and it is customary for people to give offerings of food and drink to the spirits so their time is enjoyable and they are not inclined to disrupt human life.
According to the township's cultural and historical academic Lin Hsin-lai (林新來), local lore recounts many rituals that used straw effigies, including those to dispel bad luck, counter evil spirits, end bad romances and even lift curses.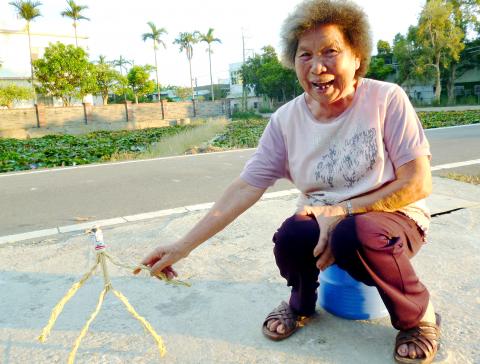 Chien Hsu Ming-hsia, 85, displays one of her straw figures in Taoyuan County's Guanyin Township on Aug. 14.
Photo: Lee Jung-ping, Taipei Times
Usually a Taoist master needs a lock of hair or fingernail clippings from the person plagued by evil spirits.
These are put into a straw figure along with a paper slip, on which the birth time and date and name of the person is written, Lin said.
Once the slip is put into the figure it becomes a "simulacrum" of the person, Lin said.
Chien Hsu said she learned how to make the effigies 15 years ago and has been making them for out-of-town temples ever since.
Years of experience have made her a deft hand at effigy making. She can make about 10 effigies per hour — which works out to about 1,000 a month and a total of 170,000 over the course of 15 years.
There are specific dimensions and standards to meet when making the effigies, Chien Hsu said, adding that each figure is made from 36 pieces of straw, nine of which go to fashion the head, nine each for the arms and hands, nine for the body and nine each for the legs.
Her children, two boys and five girls, said they used to feel slightly spooked when they saw the straw figures at home.
However, now they try to see their mother's craft from a different perspective.
"The effigies are said to ward off ill luck, so it should be something akin to doing good," they said.
Comments will be moderated. Keep comments relevant to the article. Remarks containing abusive and obscene language, personal attacks of any kind or promotion will be removed and the user banned. Final decision will be at the discretion of the Taipei Times.