Full Qing Dynasty stamps on display for first time
A stamp exhibition opened at the Postal Museum in Taipei yesterday, featuring rarely-seen stamps issued during the Qing Dynasty.
The five-day exhibition is being hosted by Chunghwa Post and Chinese Taipei Philately Society. According to the postal company, 400 frames of stamp collections will be on display.
The postal firm said that one of the stamp collections was published in 1897, when China was still under the rule of the Qing Dynasty. As the Qing Dynasty Post ran out of stocks of the new postage stamps, it decided to overprint new ones on some of its unused stamps, including the small dragon stamps, stamp duty and memorial stamps issued on the birthday of Empress Dowager Cixi (慈禧太后).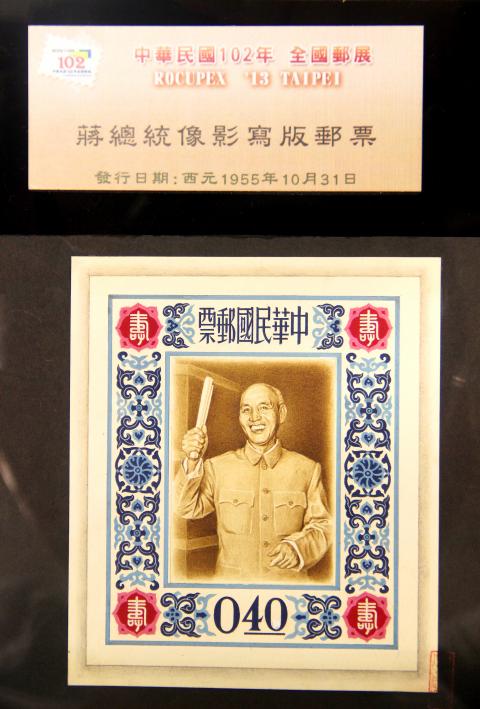 A stamp issued in 1955, and featuring late president Chiang Kai-shek, is shown at a stamp expo in Taipei yesterday.
Photo: CNA
The firm added that this is the first time that the complete stamp collection is on display.
The Postal Museum will present an envelope with the seal of Taiwan Customs sent in 1875. The customs office was in Kaohsiung, which was called Dago (打狗) at that time, and the letter was shipped to Hong Kong via Xiamen. This is the only envelope with the seal of Taiwan Customs collected by the museum, Chunghwa Post said.
Aside from the two rare collections, the postal firm said that some of the nation's award-winning stamp collections, as well as those from Denmark, Australia and other countries, are being shown at the exhibit.
Seminars on stamp collecting are also being held today and tomorrow.
Comments will be moderated. Keep comments relevant to the article. Remarks containing abusive and obscene language, personal attacks of any kind or promotion will be removed and the user banned. Final decision will be at the discretion of the Taipei Times.