Taiwan dealt with rabies effectively: experts
After visiting rabies-affected areas and laboratories in Taiwan, specialists from the US Centers for Disease Control and Prevention (CDC) yesterday praised the Taiwanese government's "swift and comprehensive" response to the re-emergence of rabies in the country and reported the preliminary results of their oral vaccination study on ferret-badgers.
The specialist team arrived in Taiwan earlier this month to assist health authorities on prevention measures and have been working with the Taiwanese CDC and the Council of Agriculture to identify clear strategies for rabies control.
Ryan Wallace, one of the three specialists, said "surveillance systems to detect rabid animals have been in operation since the first reported rabies case [and] the laboratory response to diagnose the disease, which was previously not recognized in this country, has been equally impressive."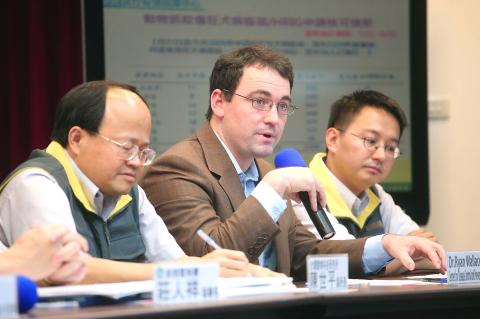 Ryan Wallace, center, a specialist from the US Centers for Disease Control and Prevention, talks about the government's response to the re-emergence of rabies in Taiwan during a press conference in Taipei yesterday.
Photo: CNA
"The full extent of the rabies reservoir in Taiwan is not yet understood in its entirety. Further testing of rabies-suspect animals and focused studies must be conducted before we could understand the extent of the disease spread. For this reason, all counties and cities in Taiwan should be considered potentially to have rabies in their wildlife populations," he said.
Oral rabies vaccination requires years of planning, preparation and studies, Wallace said, before questions of what type of vaccine to use, what type of bait to use and how to target reservoir animals can be adequately determined.
In the study, the specialists used three baits that are available in the US and three ferret-badgers that were in captivity were offered the bait.
The goal of the study, in which only placebos, not actual vaccines, were used, is to see if the coating on the bait would attract ferret-badgers, and if it did attract them, how the bait would be handled: actually ingested or simply chewed by the ferret-badgers.
"The ferret-badgers, unfortunately, did not seem very interested in any of these baits," Wallace said.
Some placebo baits were also placed with cameras in settings where ferret-badgers have existed, but no video of ferret-badgers approaching the baits was obtained.
"The small preliminary study probably indicates that the baits we have are probably not ideal for an animal the size of a ferret-badger, and they may not be very good at attracting ferret-badgers to eat them, which is required for vaccination," he said.
"In the US, we are currently using two types of vaccine for oral rabies vaccination in wildlife, and both of those should be evaluated as options for Taiwan if you decide to go the route of oral vaccination, but it's a long process," he said.
Asked about the need of an animal experiment, Wallace said animal model experiments play an important role in describing pathogenesis and vaccine efficacy when a new virus or disease is found.
Comments will be moderated. Keep comments relevant to the article. Remarks containing abusive and obscene language, personal attacks of any kind or promotion will be removed and the user banned. Final decision will be at the discretion of the Taipei Times.