Spider study helps unlock secrets of balance
SPIDER WOMAN: The study by physics professor Chi Kai-jung utilized high-speed cameras to take photographs of Adanson's house jumper, a species of jumping spider
A study conducted by National Chung Hsing University has revealed how jumping spiders use a silk dragline to stabilize themselves in mid-air and control their landings.
Slow-motion footage revealed the spiders use their silk draglines to stabilize their bodies and to brake, enabling them to land poised and ready to pounce on prey.
Scientists say that the discovery could inspire new robot design.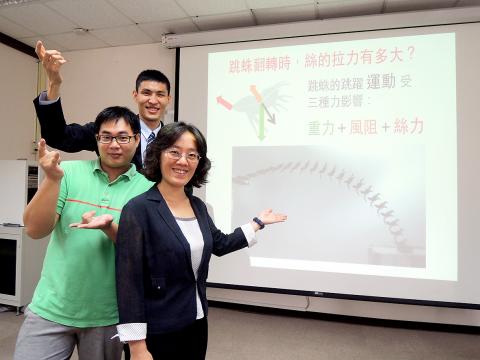 Chi Kai-jung, right, and two of her students show a diagram of their findings on how jumping spiders use a silk dragline to stabilize themselves in mid-air and control their landings, at National Chung Hsing University in Greater Taichung on Thursday.
Photo: Tsai Shu-yuan, Taipei Times
The findings appeared on the Journal of the Royal Society Interface Web site on Aug. 7 and were also reported on by the BBC and Science News.
Interface is a peer-reviewed online scientific journal that started publication in 2004, and includes reviews, research articles and short reports from the interface between physical sciences and life sciences.
The study, conducted by physics professor Chi Kai-jung (紀凱容), used high-speed cameras — 1,000 frames per second — to shoot more than 10,000 photographs of the Adanson's house jumper, Hasarius adansoni, a species of jumping spider.
Chi said academics had concluded that macrovertebrates, such as humans, kangaroos or lizards, maintained balance by using inertia from swinging limbs or tails, while other creatures utilized aerodynmaic forces by flapping wings.
"My study may have provided a third possibility of how life in nature keeps balance," Chi said, pointing to how the Adanson's house jumper is able to maintain balance — even after flipping in the air — by using one strand of silk.
Chi said the key lay in the fact that the spider places a silk dragline on the ground before it jumps, and continues to pump out the silk while still in the air, adding that the spider was able to change direction in the air through tightening or loosening an internal organ, which Chi describes in the article as a type of friction brake.
The study discovered that the spider, 6mm in length, was able to jump 80mm horizontally in 1.5 seconds and was able to quickly regain its footing or change direction if it used a silk dragline. Non-silk jumping spiders without the draglines would land badly more often and take five times as long to steady themselves.
Chi said that the study integrated research into the kinesiology of spiders and the mechanics of spider silk, adding that the results may be applied to rock climbing equipment as well and robots.
Comments will be moderated. Keep comments relevant to the article. Remarks containing abusive and obscene language, personal attacks of any kind or promotion will be removed and the user banned. Final decision will be at the discretion of the Taipei Times.