Ma receives red carpet welcome in Saint Lucia
President Ma Ying-jeou (馬英九) received a red carpet welcome with full military honors when he arrived in Castries, the capital of Saint Lucia, late on Thursday from Paraguay.
Many Taiwanese expatriates in Saint Lucia turned out to greet Ma and his entourage.
However, ahead of Ma's arrival the leader of the opposition Lucian People's Movement (LPM), Therold Prudent, urged Saint Lucians not be sidetracked by Ma's visit into "ignoring his government's current and historical abuse of human rights in Taiwan," according to an article on the CaribbeanNewsNow Web site.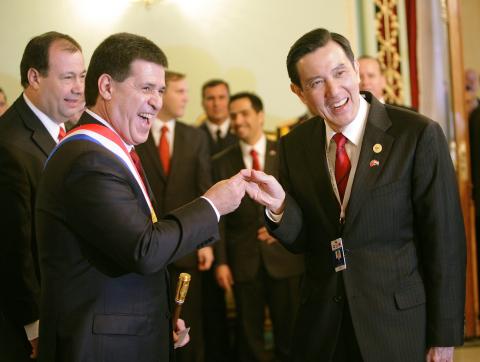 Paraguayan President Horacio Cartes, left, and President Ma Ying-jeou joke for the cameras during a reception at the presidential palace in Asuncion on Thursday.
Photo: Reuters
"While the Taiwanese government continues to pump millions of dollars into our country, Saint Lucians should not sell their values for big-dollar diplomacy, which, if there is a settlement of the China/Taiwan conflict, may come to an abrupt end. As a sovereign nation, our reliance on foreign aid should not prevent us from voicing our deep concerns about practices that we would not tolerate in our homeland," Prudent said.
"My organization remains supportive of the relationship between Saint Lucia and Taiwan and has gone further than most political organizations in the country to openly support the aspirations of millions of Taiwanese who hope to enjoy the same rights and international recognition that was eventually afforded the people of Saint Lucia in 1979; however, it cannot in good conscious [sic] continue to support a nation that does not value the human rights of its citizens," he said.
Earlier on Thursday, Ma attended the inauguration of Paraguayan President Horacio Cartes and Vice President Juan Afara.
Ma shook hands and exchanged greetings with other heads of state, including Chilean President Sebastian Pinera, Peruvian President Ollanta Humala, Brazilian President Dilma Rousseff, Uruguayan President Jose Mujica and Argentine President Cristina Fernandez.
Touching on relations with Taiwan, Cartes vowed to strengthen bilateral ties and expand cooperation in diversified ways and fields.
After the inauguration, Ma was presented with the key to the Paraguayan capital by Asuncion Mayor Arnaldo Samaniego.
He also attended a presidential inaugural mass at the Cathedral of Asuncion and a state luncheon at Cartes' residence.
From Saint Lucia he will travel to Saint Christopher and Nevis. Saint Vincent and the Grenadines is the final stop on his Caribbean tour.
Additional reporting by staff reporter
Comments will be moderated. Keep comments relevant to the article. Remarks containing abusive and obscene language, personal attacks of any kind or promotion will be removed and the user banned. Final decision will be at the discretion of the Taipei Times.