Menendez supports Taiwan in TPP
US Senate Foreign Relations Committee Chairman Robert Menendez said in Taipei yesterday that he would back Taiwan's accession to the Trans-Pacific Partnership (TPP), "provided that Taiwan is willing to support a high-standard, comprehensive agreement" to address various issues, such as labor and environment, currency manipulation and intellectual property rights.
He said the issues were "critical elements" of the proposed pact.
The senator delivered a speech titled "The Future of US-Taiwan Relations" at a luncheon hosted by the American Chamber of Commerce in Taipei yesterday, the second day of his three-day visit.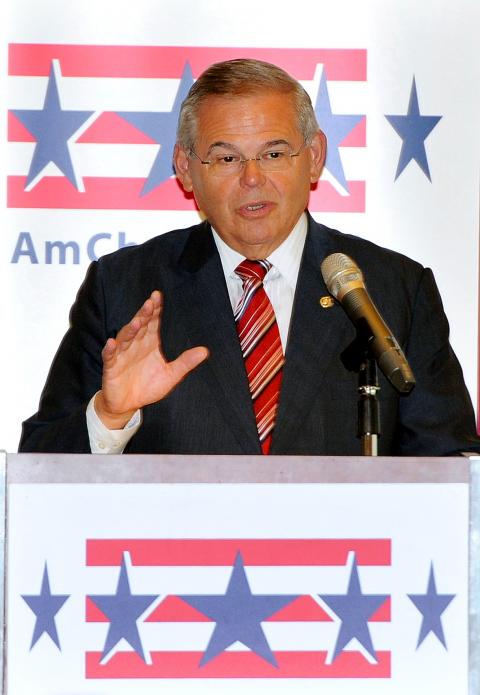 US Senator Robert Menendez, chairman of the Senate Foreign Relations Committee, speaks during a luncheon hosted by the American Chamber of Commerce in Taipei yesterday.
Photo: Liao Chen-huei, Taipei Times
While applauding some of the reforms Taiwan has made to open up its public procurement market after becoming a member of the WTO's Agreement on Government Procurement in 2009, Menendez said that "some US firms continue to encounter problems relating to transparency, contract terms and conditions, licensing and liability."
He also said he was concerned about the restrictions imposed on foreign investors in agricultural production, chemical manufacturing, public utility, transportation, telecommunications, high-speed rail and a natural gas pipeline.
With the resumption of bilateral talks under the bilateral Trade and Investment Framework Agreement (TIFA) in March, Menendez said he was confident that the US and Taiwan could continue to work together to solve the challenges of "a fully open and transparent relationship."
Menendez said he had talked to President Ma Ying-jeou (馬英九) by telephone, and Vice President Wu Den-yih (吳敦義) and Minister of Economic Affairs Chang Chia-juch (張家祝) at separate meetings earlier in the day, saying he "looked forward to strengthening our economic partnership" under the TIFA platform.
Taiwan and the US set up a "working group on investment" during the TIFA negotiations in March to further explore issues under a bilateral investment agreement (BIA), in addition to a "working group on technical barriers to trade."
Menendez said he had conveyed his "strong support" for a US-Taiwan BIA to US Trade Representative Michael Froman.
Over the years, Washington and Taipei have made tremendous progress in deepening bilateral relationships, Menendez said, citing the inclusion of Taiwan in the US visa waiver program, the resumption of TIFA talks, security cooperation and US legislation in support of Taiwan's participation in the International Civil Aviation Organization as an observer, which he authored.
Menendez said that constructive and strategic US engagement in Asia was in the interests of all nations in the region and would help create a mutually beneficial future for both the US and Taiwan, as well as for the world.
The Ministry of Foreign Affairs said Menendez's visit to Taipei is the first by the chairman of the Foreign Relations Committee since US Vice President Joe Biden visited in 2001.
Menendez's trip to Asia is his first since becoming chairman of the committee in January.
He had meetings yesterday with Premier Jiang Yi-huah (江宜樺) and Legislative Speaker Wang Jin-pyng (王金平). Officials who were present at those meetings said Menendez brought up issues related to the controversy over the Fourth Nuclear Power Plant, the government's policy to turn the army into an all-volunteer force and security-related matters.
The senator was also scheduled to meet with Minister of National Defense Yen Ming (嚴明).
Menendez leaves Taiwan today.
Comments will be moderated. Keep comments relevant to the article. Remarks containing abusive and obscene language, personal attacks of any kind or promotion will be removed and the user banned. Final decision will be at the discretion of the Taipei Times.