Lin given hero's welcome by fans
The enthusiasm of the fans gathered at Taiwan Taoyuan International Airport to greet the Houston Rockets' Jeremy Lin (林書豪) upon his arrival yesterday showed that local support for the basketball star has not diminished despite a relatively lackluster year in the NBA.
"I am glad to be back in Taiwan. The Taiwanese media has always been good to me. My fans in Taiwan are very passionate too. I am very happy to be back," Lin, the first Taiwanese-American to play in the NBA, said at a press conference in Taipei, during which he answered nearly every question in Chinese.
Lin became a media sensation last year by unexpectedly leading the New York Knicks to a seven-game winning streak, with the ensuing frenzy dubbed "Linsanity."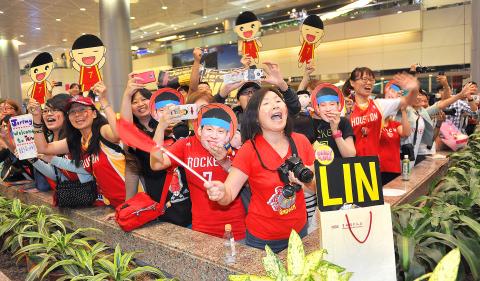 A group of fans give Houston Rockets point guard Jeremy Lin a warm welcome at the Taiwan Taoyuan International Airport yesterday.
Photo: Yao Kai-shiou, Taipei Times
Lin's meteoric rise to stardom has been an inspiration to many since he spent most of his rookie season in 2010 on the bench and was even assigned to play in the NBA Development League three times.
He was subsequently waived by the Golden State Warriors and the Houston Rockets before joining the Knicks in the early 2011 to 2012 season, when his big break finally came.
The media frenzy helped him land a three-year contract with the Rockets last summer. However, as the "Linsanity" faded, sports commentators began to question if Lin was overrated after his mediocre performance after returning to Houston.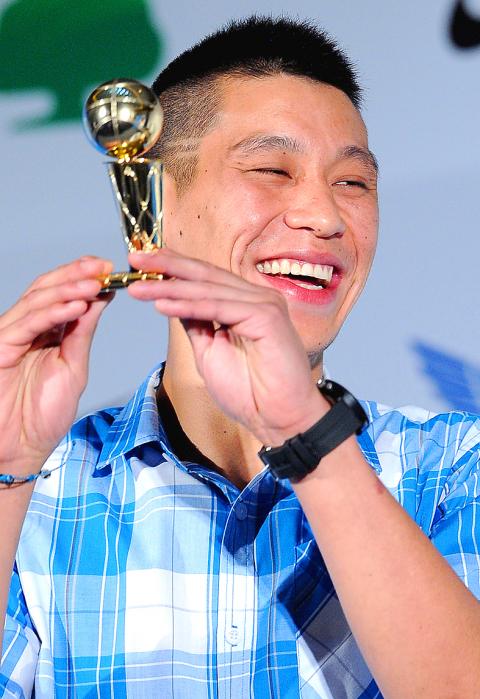 Jeremy Lin holds up a mini-NBA championship trophy during an interview in Taipei yesterday.
Photo: Chu Pei-hsiung, Taipei Times
After the NBA playoffs, US media reported that Lin could be traded again in exchange for other star players. However, Lin seemed unfazed by the rumors yesterday.
"The NBA is a business and needs to test the market. I am playing basketball for God. Regardless of which team I am in, I will just do my best," he said. "I know that each NBA team needs to evaluate trade possibilities. I do not feel too sad about [the prospect of being traded."
Lin admitted he felt pressure to repeat his performance with the Knicks in Houston.
"At first, amid the 'Linsanity,' I felt I had to live up to the hype and play really well at the Rockets. So I put a lot of pressure on myself. As the season went on, I learned that the best way to play was to play for God," he said.
Lin added that he had to make major adjustments after he switched from the Knicks to his old team.
"In New York, I had the ball most of the time. Now that I play with James Harden at the Houston Rockets, who is an all-star player that is good at playing pick and roll, I need to learn how to give and go and look for an open shot," he said. "I have been a point guard since I was a kid, but I need to be off the ball sometimes when I play alongside James. He is very good and we need to learn how to play together."
Lin said that not having played particularly well last season was motivating him to play better in the playoffs in the coming season.
He listed three goals he hopes to achieve in the off-season, including raising his three-point shooting average to 40 percent, strengthening his defensive abilities and improving his left-handed dribbling and passing.
"Whenever we play against stronger teams, the players know that I play better with my right hand and force me to play with my left," he said.
Lin said the Rockets are now much improved since all-star center Dwight Howard came onboard because he is also good at playing pick and roll and would strengthen the team's defensive and rebounding abilities.
Comments will be moderated. Keep comments relevant to the article. Remarks containing abusive and obscene language, personal attacks of any kind or promotion will be removed and the user banned. Final decision will be at the discretion of the Taipei Times.