Ma visits Haiti on first leg of tour
President Ma Ying-jeou (馬英九) and Haitian President Michel Martelly on Tuesday presided over a ceremony to mark the start of construction of a new Supreme Court building in Port-au-Prince.
Taiwan is paying for the building, which will cost about US$16 million and is scheduled to be completed in 2015. The old courthouse was destroyed by the powerful earthquake that struck Haiti in January 2010.
Ma said he was deeply moved that Haiti had given priority to the project, which he said demonstrated the importance the government attaches to the rule of law.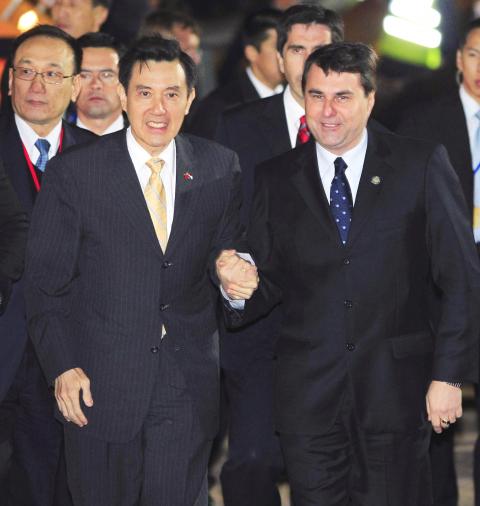 President Ma Ying-jeou, left, is welcomed by outgoing Paraguayan President Frederico Franco upon his arrival at Silvio Pettirossi airport in Asuncion, Paraguay, on Tuesday.
Photo: Reuters
Martelly said rebuilding Haiti's judicial system and improving working conditions are two essential components of post-quake reconstruction, a goal that the government is working toward in cooperation with the private sector.
Ma arrived in Haiti on Tuesday for an hours-long visit, the first leg of his five-nation diplomatic tour. He was the first Taiwanese president to visit Haiti since the two nations established diplomatic relations in 1956 and was greeted at the airport by Martelly.
The two presidents later held talks at the presidential palace.
During that meeting, Martelly described Taiwan as Haiti's most important ally, recalling that the first rescue team to arrive after the 2010 earthquake was from Taiwan. He thanked Taiwan for the assistance provided in the rehabilitation of his country and said Haiti would always be a friend of Taiwan.
Ma said Taiwan has been reaching out to Haiti based on the nation's long-term friendship.
Besides finishing work on the 200 permanent housing units that were completed for quake victims last year, Taiwan will promote other reconstruction projects, Ma said. He also promised to assess the feasibility of a proposal from Martelly for Taiwanese businesses to invest in Haiti's tourism sector.
Ma said he hoped that Haiti will continue to help Taiwan participate meaningfully in international organizations. He also invited Martelly to visit Taiwan, an invitation that was quickly accepted.
During his flight from New York to Haiti, Ma rejected accusations that the government was engaging in checkbook diplomacy by putting up the money for the court building.
The Chinese-language Liberty Times (the Taipei Times' sister newpaper), citing a July 2011 People's Daily article, reported on Monday that the money for the court building had already been raised from the international community as part of a Haitian government reconstruction plan.
Ma said the building is being funded from an annual budget for cooperation plans with diplomatic allies, because much of the money pledged by other countries has not reached Haiti. The project is being carried out through a normal process and does not require any additional funds beyond the annual budget, he said.
Ma left Haiti later on Tuesday for Paraguay.
Comments will be moderated. Keep comments relevant to the article. Remarks containing abusive and obscene language, personal attacks of any kind or promotion will be removed and the user banned. Final decision will be at the discretion of the Taipei Times.