Academics warn of dangers of dioxins
BUYERS BEWARE: An expert said that the use of Agent Orange in Vietnam meant that some imports from the country should be treated with caution
Though dioxin pollution in Taiwan has dropped drastically over recent years due to stringent governmental regulation, academics warn that people should still be on their guard, especially regarding potential dioxin contaminants in imported goods.
Taiwanese usually stereotype dioxin pollution as coming from the burning of scrap metal or via incinerator plants due to experiences during the early stages of Taiwan's modernization, said Ling Yong-chien (凌永健), a chemistry professor at National Tsing Hua University.
However, with the general governmental ban on scrap metal exports in 1993, and the Regulation Standards for Dioxin Levels in Emissions of Medium to Small Waste Incinerator Plants (中小型廢棄物焚化爐戴奧辛管制及排放標準) in 1997, dioxin contamination has fallen drastically in recent years.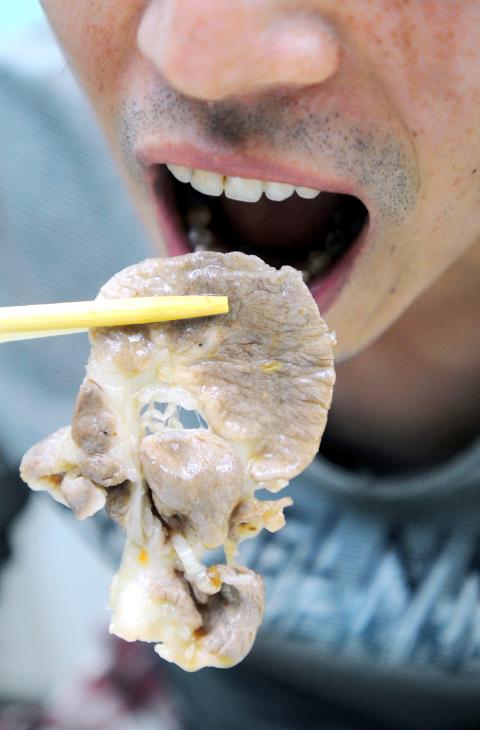 A man eats a piece of meat in Taipei on May 11.
Photo: Wang Yi-sung, Taipei Times
Taiwan now has the strictest standards in the world, allowing only 0.1 picograms (pg) of residual dioxin content per kilogram in foodstuffs.
According to Food and Drug Administration (FDA) Deputy Division Chief Feng Jun-lan (馮潤蘭), the government has maintained its inspection of residual dioxin levels in foodstuffs since 2004, adding that average day exposure to dioxin per lifetime was 0.35pg.
The WHO's standards for daily tolerable levels of dioxin remain at 1-4pg per kilogram of body weight, while the EU's Scientific Committee for Food allows up to 14pg of dioxin per week.
However, Lee Hsin-yu (李心予), a professor of life sciences at National Taiwan University, said that even though Taiwan has far more stringent regulations on dioxin levels than the international norm, dioxins are ubiquitous.
Wastewater containing dioxins may seep into the ground naturally or through rainfall and become absorbed by crops or other life forms, Lee said, adding that it was likely that dioxins can be ingested through foodstuffs.
If Lee is correct, it is not difficult to understand why over the past decade there have been numerous occasions across the globe where animals or food products have been found with excessive residual dioxin levels.
Ling said that as dioxins are characterized by lipsolubility, it is easy for them to become stored in animal fat and that people should reduce their intake of animal fat, skin and offal.
Ling added that dioxins are extremely toxic and have a half-life of seven years.
Compared with dioxin, the 48 hour half-life of di(2-ethylhexyl) phthalate, or DEHP, is almost negligible, Ling said.
A government official's lab tests have turned up traces of DEHP in health supplements. Further investigation showed that many manufacturers use DEHP as a substitute for palm oil in the making of clouding agents, which sparked a widespread food scare in 2011.
Meanwhile, Ling warned that officials should be extremely cautious about food imports from China or Vietnam.
Recent investigations and research by the Chinese government show that total amounts of dioxin in the environment were increasing rapidly, Ling said, mirroring the situation in Taiwan during the early stages of its industrial development.
It is entirely possible that dioxins have been absorbed into foodstuffs and objects, Ling said.
Regarding his caution about products from Vietnam, Ling said that due to US use of Agent Orange — which was contaminated with 2,3,7,8-tetrachlorodibenzodioxin (TCDD), an extremely toxic dioxin compound — in Vietnam, mosquito repellent incense imported from Vietnam has been found to contain excessively high residual dioxin levels.
The product is made from wood flakes, and due to Agent Orange use by the US military as a defoliant during the Vietnam War, large amounts of dioxin had been absorbed by trees and soil in Vietnam.
Experts say that some degree of dioxin contamination is inevitable in the age of the "Global Village," adding that people should be aware of potential dangers, replace older machinery to decrease pollution and air contamination, and do what they can to protect nature.
Comments will be moderated. Keep comments relevant to the article. Remarks containing abusive and obscene language, personal attacks of any kind or promotion will be removed and the user banned. Final decision will be at the discretion of the Taipei Times.