Old Xinbeitou train station coming home to Taipei
The old Xinbeitou (新北投) train station was officially returned to Taipei yesterday, more than two decades after the wooden building was relocated to the Taiwan Folk Village in Changhua County in 1992. The handover was marked by a ceremony in Changhua, since it will take some time to dismantle the building.
The Taipei City Government said it plans to rebuild the station in Cising Park, close to its original site, by 2016.
Taipei Rapid Transit Corp sold the station to the museum for NT$1 to make way for the construction of MRT New Beitou Station in Beitou District (北投). It was not a popular decision. Beitou residents and city officials have been seeking its return since 2004.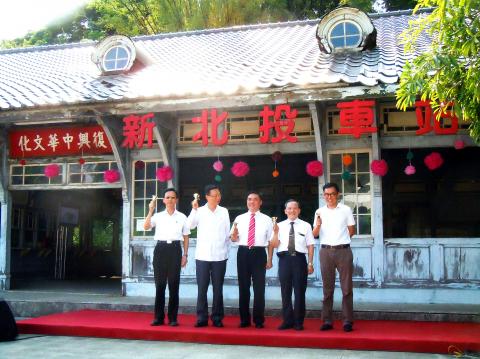 Changhua County Commissioner Cho Po-yuan, second left, and Taipei Mayor Hau Lung-bin, center, ring bells in Changhua County yesterday to mark the return of the Xinbeitou train station to Taipei. The building was moved to Changhua County in 1992 after the railway line between Taipei and Beitou was closed.
Photo: Chang Tsung-chiu, Taipei Times
After the folk village ran into financial difficulties, its management reached a consensus with the city government earlier this year and agreed to return it to Taipei.
Taipei Mayor Hau Lung-bin (郝龍斌) joined Changhua County Commissioner Cho Po-yuan (卓伯源) for the handover ceremony at the museum.
Hau said the station would add cultural and historical charm to Beitou.
"The Xinbeitou train station is a historical asset for Taipei, and we are excited it is coming home," he said.
About 80 Beitou residents and folk singer Chen Ming-chang (陳明章) attended the ceremony, which included a performance of folk songs.
The Xinbeitou station was erected by the Japanese in 1916 to anchor the sub-line connecting the Taipei and Tamsui railway systems and making travel to the hot springs in Beitou more convenient. This led to the building of a public bath house in Beitou, Beitou Park and an expansion of the Beitou resort area.
Comments will be moderated. Keep comments relevant to the article. Remarks containing abusive and obscene language, personal attacks of any kind or promotion will be removed and the user banned. Final decision will be at the discretion of the Taipei Times.