Young Taipei designer creates organic T-shirts
A young Taipei entrepreneur has carved out a niche in the apparel industry by creating and marketing his own brand of organic cotton T-shirts, which he says are healthier for consumers and better for the environment than non-organic brands.
Fond of painting as a child, Lee Meng-yuan (李孟遠) attended Fu Hsin Trade and Arts High School in New Taipei City (新北市) and went on to graduate from the Department of Fashion Design at Shih Chien University.
After graduating, Lee worked for two years as a designer in Taipei's Wufenpu (五分埔) Garment Wholesale Area, next to Songshan Railway Station.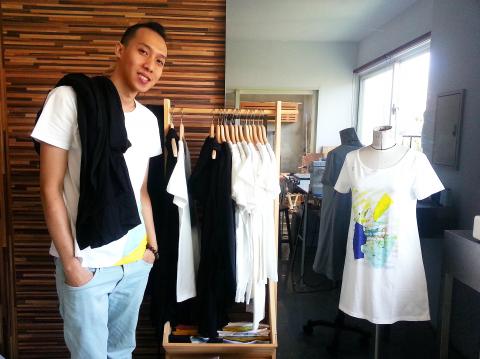 Organic cotton garment designer Lee Meng-yuan stands next to some of his creations at his studio in Taipei on Friday last week.
Photo: CNA
The job taught Lee a lot about the operation and business aspects of the garment industry.
However, he found that merchants often sacrifice the quality of materials and forsake good design concepts to cut costs, so he decided to strike out on his own, by establishing his own brand of apparel products.
With NT$100,000 (US$3,340) in startup capital, Lee launched his company, Ian Design, in 2009.
The young entrepreneur personally oversees almost all stages of its operations, from designing, styling patterns and printing to marketing and distribution.
"There is meaning in the name 'Ian Design,' as the 'I' stands for 'interesting,' the 'A' stands for art, and 'N' for nature," he said. "During the designing and cutting process, I want to remove any excess in the decorative aspects and in the production procedures. My aim is to return to basics and focus on the comfort of the T-shirt."
Lee said he only uses 100 percent all-natural organic cotton to make the fabric he uses for his garments.
He said that to be certified as "organic cotton," the plantation must forgo the use of chemical fertilizers, herbicides and pesticides, remain fallow for three years, then cultivate only non-genetically modified cotton.
He said that large amounts of pesticides are used in most non-organic cotton fields. Traditional cotton agriculture is estimated to account for about 25 percent of the global market of pesticides, and about 10 percent of herbicides.
"To produce three pounds [1.4kg] of cotton, about one pound of chemical fertilizers, pesticides and herbicides is needed, which can seriously affect people's health and the environment," Lee said.
He said his organic cotton T-shirts are biodegradable, and environmentally friendly. The pictures and patterns on his "Ian Design" T-shirts are printed using non-toxic inks, Lee added.
"Using environmentally friendly materials has allowed me to link up with companies with the same conviction," he said.
He said he also uses natural ingredients to dye his T-shirts.
"To make the dyes, we use extracts from grasses, bushes and trees. Organic dyes can be made from common ingredients such as onion skins, orange jasmine plants and garcinia trees," Lee said.
Building on his passion for art, Lee makes his own print designs, finding inspiration in ordinary sights such as stray dogs in a park or ultrasound images of a fetus.
"This is my way of recording everyday life," he said.
Comments will be moderated. Keep comments relevant to the article. Remarks containing abusive and obscene language, personal attacks of any kind or promotion will be removed and the user banned. Final decision will be at the discretion of the Taipei Times.