Kaohsiung mayor to leave for China on Friday to promote cities summit
Greater Kaohsiung Mayor Chen Chu (陳菊) of the Democratic Progressive Party (DPP) yesterday announced that she would be visiting China this week, her second since 2009.
Chen is scheduled to visit four Chinese cities — Tianjin, Shenzhen and the Fujian Province cities of Fuzhou and Xiamen, in six days beginning on Friday to promote the 2013 Asia Pacific Cities Summit (APCS), which will be held in Greater Kaohsiung from Sept. 9 to 11.
Fifty-four cities around the world have registered to participate in the event, but none from China, Chen said.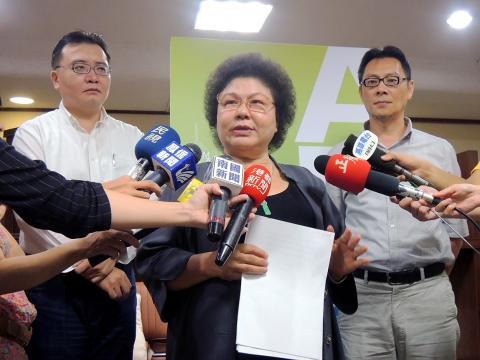 Greater Kaohsiung Mayor Chen Chu announces yesterday that she is traveling to China on Friday to invite four Chinese cities to attend the Asia-Pacific Cities Summit in Greater Kaohsiung next month.
Photo: Wang Jung-hsiang, Taipei Times
The senior DPP politician, who raised eyebrows with her visit to China in 2009 to promote the World Games in then-Kaohsiung City, played down the political implications of her trip, saying the visit aims to strengthen exchanges between cities.
"I've always supported direct contact between Taiwanese and Chinese cities because that would eliminate misunderstandings. I also support the peaceful development of cross-strait relations and interaction between people from both sides," she said.
Following her trip in 2009, during which the mayor stood up to Chinese officials and referred to Ma Ying-jeou (馬英九) as president of the Republic of China, Chen antagonized Beijing with the screening of a documentary about Uighur dissident Rebiya Kadeer and inviting Tibetan spiritual leader the Dalai Lama to visit Greater Kaohsiung.
Beijing had shut the door on communication with Chen until the mayor proposed the visit in April this year.
Comments will be moderated. Keep comments relevant to the article. Remarks containing abusive and obscene language, personal attacks of any kind or promotion will be removed and the user banned. Final decision will be at the discretion of the Taipei Times.