Ex-convict sues Citizen 1985, Hung's sister
ANGER: Netizens panned Tung Nien-tai's action, saying he just wanted to attract media attention and that he should wear the skin of a pig's face himself
Ex-convict and debt collector Tung Nien-tai (董念台) yesterday filed a lawsuit against members of activist group Citizen 1985 and Hung Tzu-yung (洪慈庸), the sister of late army corporal Hung Chung-chiu (洪仲丘), saying they have forced the legislature to amend the Code of Court Martial Procedure (軍事審判法) and violated the Organized Crime Prevention Act (組織犯罪條例).
Tung, who filed the lawsuit with the Taipei District Prosecutors' Office in the morning, said Citizen 1985 repeatedly used the case of Hung Chung-chiu's death to incite the public to protest against the government and to force legislators to enact a "bad law" — his name for the amendment.
Accusing Hung Tzu-yung of conspiring with the group to achieve those two goals, Tung said that if military personnel could not undergo proper training legally, the military would collapse.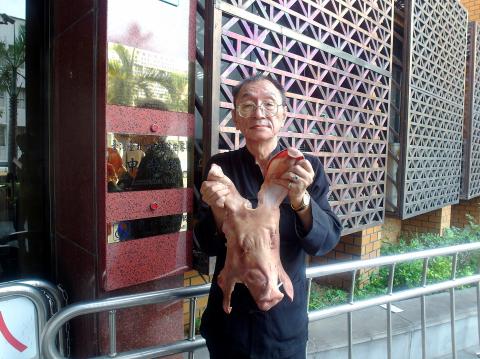 Ex-convict Tung Nien-tai holds a pig's face by the door of the Taipei District Court yesterday as he applies to sue members of Citizen 1985 and Hung Tzu-yung, sister of late army corporal Hung Chung-chiu, for allegedly violating the Organized Crime Prevention Act.
Photo: CNA
Tung added that what the two parties had done violated the act and, brandishing the skin of a pig's face, said that if prosecutors do not charge them with the offenses, he would give the pig face to the prosecutors.
If Minister of Justice Tseng Yung-fu (曾勇夫) blocked any investigation into the matter, he would receive the skin, Tung added.
Hung Tzu-yung and Citizen 1985 said they have nothing to say in response to Tung's allegations.
The ex-convict's actions were immediately panned by netizens, some of whom said Tung was "crazy," just wanted to get attention from the media and that he should be the one wearing the pig face.
The group organized a mass rally on Saturday in which up to 200,000 people protested against what they said was the military's poor investigation into the Hung Chung-chiu case.
Comments will be moderated. Keep comments relevant to the article. Remarks containing abusive and obscene language, personal attacks of any kind or promotion will be removed and the user banned. Final decision will be at the discretion of the Taipei Times.