SERVICES PACT: INTERVIEW: Government should halt implementation of pact: expert
National Taiwan University economics department chairwoman Jang Show-ling called on the government to suspend the newly signed cross-strait service trade agreement in an interview with 'Taipei Times' staff reporter Helen Ku. Jang said the feasibility of opening Taiwan's market comprehensively to Chinese investors should be re-evaluated because it could bring more harm than benefits to local companies
Taipei Times (TT): To promote the service trade agreement with China, the government recently launched a series of forums to help the public understand how it handled the negotiations on the pact. How do you interpret this move?
Jang Show-ling (鄭秀玲 Jang): The government mainly consulted and exchanged opinions with large enterprises in the banking, construction and e-commerce sectors. However, the government did not consult with small and medium-sized companies in the service sector, which could be most affected by the pact. That is why the government now has to ease the public's concern about the impact of the agreement.
Apparently, the government did not side with the "small" number of local companies and did not take their needs into consideration. The government failed to prove it is capable of safeguarding local businesses' interest.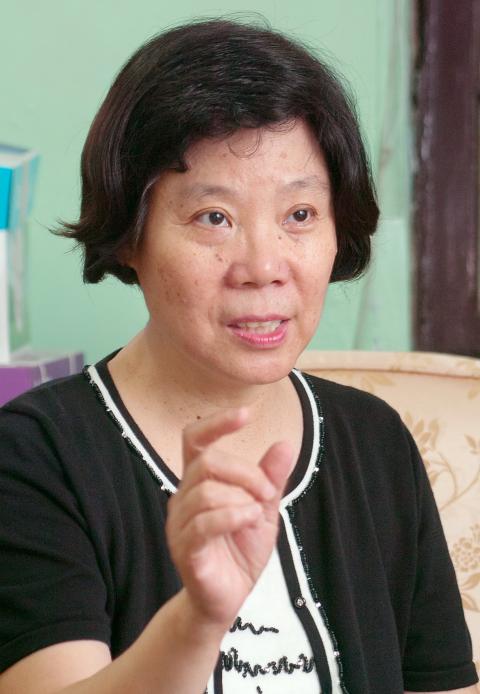 National Taiwan University economics department chairwoman Jang Show-ling gestures during an interview with the Taipei Times on June 30.
Photo: Wang Min-wei, Taipei Times
It might be right for the government to help enterprises break into new markets, but it is unacceptable that this comes at the expense of small companies' interests. The government should at least come up with effective support measures to minimize the potential adverse impacts of opening up to Chinese investment.
The government needs to renegotiate with China over terms of the pact, or the agreement should be reassessed rule by rule in the Legislative Yuan to let legislators determine whether the public can embrace such pact or not.
TT: Do you think the government failed to communicate with local service providers while preparing to sign the agreement? Why is the public concerned about the pact?
Jang: It was a norm for government officials to visit local industry unions to collect suggestions before signing any trade agreements. The government did so in 2001 when vying the join to the WTO and inking the Economic Cooperation Framework Agreement in 2010 [ECFA].
This time, however, things were different. Officials from the Ministry of Economic Affairs, the Council for Economic Planning and Development, and the Mainland Affairs Council acted like typical bureaucrats, following every order from their superiors in order to sign the pact on time without thoroughly evaluating or discussing with industry representatives.
TT: In your opinion, what is the biggest problem of the pact?
Jang: Small and medium-sized enterprises make up the majority of Taiwan's service sector. Currently, there are 935,000 enterprises in the service sector, and service providers that require manual labor account for up to 86 percent, which shows how the pact might dramatically affect local service providers' job security because Chinese investors might create job openings for low-entry positions at a low wage rate as they do in China.
From a different perspective, given that there are more than 5 million people — accounting for 58 percent of Taiwan's total workers — working in the service sector, flow of funds, knowledge and labor could harm the economy. The adverse impact could be huge as the output of services accounted for nearly 70 percent of the nation's GDP last year.
TT: What kind of outcome do you foresee if the pact takes effect?
Jang: The people who will benefit from the agreement are mostly professionals in the financial, telecommunications, accounting, construction and medical sectors.
Given that their services require knowledge, doctors, accountants or civil engineers can find employment and business opportunities in China.
One possible outcome is that Taiwanese who work in China do not wire their profits to Taiwan. The Taiwanese government will never be able to collect tax from those investments.
Taiwanese investors in China could also face hindrance while following off-the-table rules. Although the pact clearly specifies that Chinese and Taiwanese investors can develop joint ventures, it does not guarantee who has the right to own intellectual property of any service, for example. Taiwanese investors' developed or developing technologies might be transferred to Chinese investors. The pact does not contain adequate protection measures.
Unfortunately under the pact, Taiwan's service sectors could face difficulties in markets due to oversupply, and this is what matters the most among all potential problem.
Over the past years, large enterprises, with their abundant financial resources, have been heavily investing in Taiwanese retail stores as they see huge sales potential in this market.
As a result, many traditional and small-sized retail stores were forced to shut down because they could not deal with the severe competition with limited resources. Once the pact is approved by the Legislative Yuan, increasing Chinese investment is likely to force local service providers to leave their markets.
Another possible scenario is that thousands of people lose their jobs or apply for positions provided by Chinese investors.
Overall, the service trade agreement might enable talent and funds to be exchanged or used jointly. However, in addition to the possibility of a higher unemployment rate or that the number of the nation's small and medium service providers might decrease, the government should keep in mind that the pact might bring "invisible impacts" that are fundamentally unrelated to the economy.
TT: What are these possible invisible impacts?
Jang: I mean cultural impacts.
The government has been bragging about the Chinese government's preferential treatment for Taiwanese and emphasizes that because there is no "cultural entry barrier," people on both sides of the Taiwan Strait can do business with each other using the same language and sharing the same ethnicity. The government has also said that service trade agreement can not only tackle nearly every market entry barrier including land use, business income tax, tariff or labor issue, but also enhance interaction between enterprises in Taiwan and China. The problem is that Taiwanese and Chinese have different lifestyles and values, especially concerning democracy, freedom and human rights.
Under the agreement, Taiwan's publishing market is restricted from opening up to Chinese investors. However, it is not unimaginable that Chinese investors could affect Taiwan's society. Their way of managing companies or selling products may be unacceptable to Taiwanese. No one expects to see any form of restriction to be placed on Taiwan's freedom of speech, but when it comes to business, employees must follow their employers' orders to make a living.
Illegal music CD or movie DVD duplication, as well as intellectual property counterfeiting cases, are banned in Taiwan, but, no one can guarantee that Chinese investors will not import such "normal" Chinese habits to Taiwan. Not to mention non-stop incidents of environmental pollution, violation of law or corruption that are taking place in China.
Again, the government needs to safeguard not only Taiwan's financial and economic interests, but also the values that generations of Taiwanese have fought for. No one want to see their homeland damaged with increasing Chinese investors. The majority of Taiwanese are proud of the nation's freedom of speech and democracy.
TT: Is there a direct link between the service trade agreement and opening Taiwan's labor market to Chinese job seekers?
Jang: The service trade agreement specifies that Chinese investors may apply for work permits.
Those who invest more than US$200,000 are entitled to apply for work permits for two Chinese workers serving as "persons in charge of private business," "superior officers" or "experts." These Chinese investors may apply for work permit for one more Chinese worker if they increase their investment by another US$500,000. In total, Chinese investors can apply for work permits for up to seven people.
Technically, the pact's specific rules remain ambiguous because a noodle shop owner can be the person in charge of his business, while his wife could act as the shop's superior officer and his children can be noodle experts.
If the pact does not clearly defines "persons in charge of private business," "superior officers" and "experts," how is the government going to assess each work permit application? Given that China is notorious for producing fake certificates and that buying forged certificates is easy, the government may not be able to safeguard the quality of Chinese investment, nor can it guarantee that Taiwanese workers will not face unfair treatment while working for Chinese employers.
The Ma Ying-jeou (馬英九) administration must not take for granted that Chinese government's "generosity" or preferential treatment will only yield positive outcomes, but not prompt cases that Chinese investors immigrate to Taiwan under protection of the pact. Using the same language, Chinese may find it easier to break Taiwan's law than doing so in their home country, if the government chooses to adopt an easy-going attitude.
TT: With an increasing number of Chinese tourists visiting Taiwan every year, can the pact create a "monopsony" market in Taiwan?
Jang: A monopsony market situation is likely to occur when an increasing number of Chinese tourists not only act as buyers, but also as investors and sellers in Taiwan.
Take Taiwan's tourism sector as an example. Many Taiwanese travel agencies have faced difficult times as a result of the government's policy of attracting more Chinese tourists. The Chinese tourists were led by Chinese travel agencies who took them to visit Taiwan's attractions and provided them shuttle bus services on their trips. As a result, Taiwan-based travel agencies could barely make a profit from Chinese tourists. Severe competition due to disrupted market mechanism caused many travel agencies to close their businesses, and it is foreseeable that the pact could lead to similar situations in other sectors.
TT: What are the motives for signing the pact?
Jang: The service trade agreement is part of Chinese government's ongoing "12th Five-Year Plan," which is aimed at pursuing economic prosperity and is composed of a number of policies that also emphasize the ECFA.
Based on the Chinese government's preferential treatment for Taiwan, it is certain that China is ambitiously carrying out a series of strategies to fully open its regional markets in eastern China, as the pact specifies that Taiwanese enterprises must mostly invest in China's Fujian Province. By attracting Taiwanese technicians or professionals to provide services in western China, the Chinese government can upgrade China's service sector. To the Chinese government, Taiwanese talent are chess pieces used to help develop China.
The service trade agreement is clearly asymmetrical in terms of the government's pursuits for professionals or trained talent. It is clear that the Chinese government is eager to have Taiwanese professionals offer more high-end services in China, and the Taiwanese government cannot wait to welcome its counterpart to do so as they believe the ECFA helps Taiwanese talent find new markets, but it never imagined the "talent drain" could become a serious problem in Taiwan.
Both the Taiwanese and Chinese government need to re-negotiate the pact and come up with a reciprocity mechanism. Instead of continuing to lose talent to China, the Taiwanese government should act for those who have not received higher-level education or training and make sure that their handling in signing ECFA is based on the idea that both countries can benefit in the same market.
TT: How should the Taiwanese government have reacted after the pact was signed?
Jang: My suggestion to the government is that it should first consider opening sectors that are sure to benefit the country and then open up the rest step by step after a complete evaluation and contingency system is prepared.
Taiwan has an economy that is limited in its scale and therefore export-oriented. By suddenly opening service sectors to Chinese investors, Chinese government may gain control of Taiwan's economy in a short time.
As the government has not yet thoroughly prepared for the possible adverse impacts confronting local small and medium-sized enterprises, the pact should be halted.
TT: Can the pact's implementation be suspended?
Jang: Yes. It actually took five years for South Korea and the US to realize their free-trade agreement.
The South Korea-US free-trade agreement was signed on June 30, 2007, but suspended for five years due to issues surrounding US beef imports and automobile trade between the two countries. Last year, the South Korea-US free-trade agreement finally went into effect on March 15, after several rounds of negotiations during which representatives from both sides reassessed the original version of the agreement and made amendments.
If the Taiwanese government wants to reduce the impact of the agreement on the nation's minorities, it should follow South Korea and the US' example and revise the pact after reassessing it.
TT: Can the ECFA help Taiwan ink more free-trade agreements faster?
Jang: The Ma administration might see ECFA as panacea for Taiwan's staggering economy, but the fact is that it is not helpful at all. ECFA was signed in 2010 and was expected to help boost the nation's GDP, foreign investment and speed in signing free-trade agreements with other countries.
However, years of economic index figures showed that Taiwan's economy remains sluggish with people consuming less, unemployment sitting high, average wage rate falling to 14-year low.
Since the signing of ECFA, Taiwan still has not signed any other free-trade agreements, but continues to lose competitiveness in the global market because of a lack of trade agreements.
The Ma administration must stop bragging about ECFA's advantages and use the framework as a shield to defend its efforts in strengthening the nation's economy.
Comments will be moderated. Keep comments relevant to the article. Remarks containing abusive and obscene language, personal attacks of any kind or promotion will be removed and the user banned. Final decision will be at the discretion of the Taipei Times.