Man defies cancer to promote Hakka
HAKKA HERO: Liu Tai-hsiang has battled cancer for 13 years, but his toughest battle has been his lifelong aim to free Hakka from the confines of colloquial speech
Although he is battling terminal cancer, 62-year-old Liu Tai-hsiang (劉泰祥) is determined to do everything within his power to help promote Hakka culture.
Sitting in a wheelchair, wearing an oxygen mask and with severe edema in his hands and legs, Liu seemed to be defying his poor health as he pulled out a huqin (胡琴) spike fiddle and performed two iconic Hakka songs while his wife, Lin Chien-ying (林建英), sang along in the lounge of the Miaoli General Hospital on Saturday.
Though he had to pause after every few sentences to catch his breath because of his pleural effusion — fluid buildup in the lungs — Liu performed the songs to promote his latest audiobook, titled Kiou Dong (撬冬).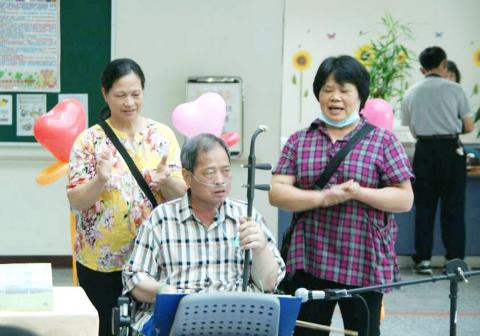 Liu Tai-hsiang, center, is accompanied by his sister Liu Chu-ying, left, and wife, Lin Chien-ying, as he plays Hakka tunes on the huqin spike fiddle at the launch of his audiobook in the lobby of the Miaoli General Hospital in Miaoli City on Saturday.
Photo courtesy of Miaoli General Hospital
"This is my legacy and I hope it can be yours as well," he told those assembled in the lounge.
The book features seven-word Hakka proverbs, ranging from the ancient to the modern, and also includes rhyming sayings, Liu said, adding that it was a good primer for beginners learning the Hakka language.
"Life is short, so don't waste any of it," Liu said, adding that he wanted to devote the time he has left to doing something for the Hakka people.
Liu said that although he has written at least six books — the first in 2008 — he had no channels through which to distribute them, adding that he has between 600 and 700 copies of his books at home.
Before he was admitted to the hospital, Lin had driven him around tirelessly so he could distribute and sell the books, Liu said.
The promotional event on Saturday was organized by the hospital and Liu expressed his gratitude to the hospital staff for trying to help him realize his dream of spreading Hakka culture.
Liu's sister, Liu Chu-ying (劉菊英), said that the 62-year-old dropped out of school after junior high and sold pork his whole life, but had always tried hard to promote Hakka culture.
She said he was "the bravest Hakka man" she had ever met for continuing to pursue his goals even after he was diagnosed with cancer.
Liu Tai-hsiang was diagnosed with a malignant tumor after noticing a lump close to his knee while he was delivering pork to Miaoli County's Sihu Township (西湖) 13 years ago.
Liu Chu-ying said that after her brother was diagnosed, he continued to dedicate himself to Hakka studies, studying hard to obtain the Hakka Council Affairs certificates for Hakka language and literature.
Prior to being hospitalized, Liu Tai-hsiang was also certified to teach Hakka language in elementary schools, Liu Chu-ying said.
Liu Chu-ying said her family had always been proud of their heritage and it was this pride that inspired Liu Tai-hsiang in his quest to ensure that the Hakka language was not constrained solely to colloquial conversation.
"My brother's greatest wish is to promote Hakka culture," Liu Chu-ying said, adding that "Liu Tai-hsiang's way of life embodies the ngng giang (硬頸) spirit of the Hakka people."
Translated literally into Chinese, ngng giang means "stiff neck" and originally carried a negative connotation, but since 1988, the term has increasingly been perceived to mean "being stubborn about maintaining good qualities." More recently, the phrase's significance has evolved to mean that the Hakka are a hardworking people who are able to weather all difficulties.
"He is the pride of our family and also the pride of the Hakka people," Liu Chu-ying said.
Comments will be moderated. Keep comments relevant to the article. Remarks containing abusive and obscene language, personal attacks of any kind or promotion will be removed and the user banned. Final decision will be at the discretion of the Taipei Times.