DPP's Su Tseng-chang to visit US
Democratic Progressive Party (DPP) Chairman Su Tseng-chang (蘇貞昌) is scheduled to make a 10-day visit from June 8 to the US, where he will inaugurate the party's representative office in Washington, the DPP announced yesterday.
The three primary goals for the visit, Su's first US trip since he assumed the party chairmanship in May last year, are promotion of parliamentary diplomacy, strengthening bilateral relations and consolidating the support of Taiwanese-American communities, the DPP's representative to the US Joseph Wu (吳釗燮) told a press conference.
The most significant event is to be the June 14 inauguration ceremony of the DPP's representative office in Washington, which was re-established as one of Su's campaign pledges and to signal the DPP's intention to rebuild mutual trust with Washington after relations went sour during the presidential campaign last year.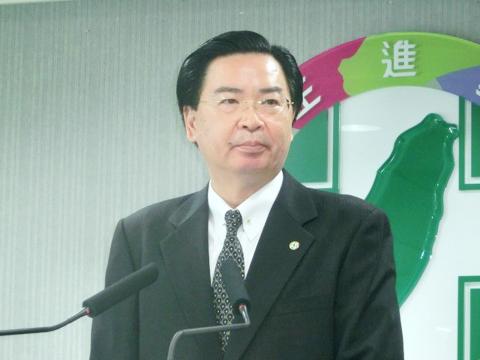 Democratic Progressive Party representative to the US Joseph Wu holds a press conference at the party's headquarters in Taipei yesterday to announce that party Chairman Su Tseng-chang will visit the US from June 8 to 18.
Photo: Lee Hsin-fang, Taipei Times
In Washington, Su is to meet with members of the US Congress on June 12 and make a speech at an event co-organized by the Brookings Institute and the Center for Strategic and International Studies the following day, Wu said.
The trip is to begin in Los Angeles on June 8, followed by New York on June 9, Houston on June 10 and Washington from June 11 to June 14. The delegation is to visit Toronto and Vancouver in Canada on June 15 and June 16, before returning to Taiwan Taoyuan International Airport on June 18.
Su is to be joined by Wu, Department of International Affairs director Liu Shih-chung (劉世忠), Poll Center director Wu Hsiang-jung (吳祥榮), former National Security Council deputy secretary-general Antonio Chiang (江春男) and other staffers for the trip.
Asked about Su's visit to Los Angeles, which will likely coincide with Chinese President Xi Jinping's (習近平) stay in California, Liu Shih-chung said that the timing was purely coincidental because the trip had been planned for almost six months, but that the party would pay close attention to Xi's comments on Sino-US relations.
Su is expected to speak about the party's newly established China Affairs Committee and a planned series of reviews on the DPP's past governance performance between 2000 and 2008, Liu said.
With an eye to extending the DPP's international outreach, Su has been promoting closer engagement with Asian countries since taking the DPP's helm. Su visited Japan, where he initiated a democratic alliance between Asia-Pacific countries, in February and reportedly met with Singaporean Prime Minister Lee Hsien Loong (李顯龍) and his father, former Singaporean prime minister Lee Kuan Yew (李光耀), in Singapore last month.
Comments will be moderated. Keep comments relevant to the article. Remarks containing abusive and obscene language, personal attacks of any kind or promotion will be removed and the user banned. Final decision will be at the discretion of the Taipei Times.