Sea drill tests Taiwan's military conflict coordination
TEST DRIVE: Ma took his first drive in a 'Clouded Leopard' armored vehicle during the drill, which the government said was not in response to the row with the Philippines
President Ma Ying-jeou (馬英九) yesterday took his first drive in one of the government's new "Clouded Leopard" armored vehicles, and watched a drill at the National Political-Military Command Center simulating conflicts in the East and South China seas.
The drill simulated an escalation in military conflict with impacts on politics, diplomatic relations, the economy, transportation and cross-strait relations. The National Security Council said the drill aimed to test the government's coordination and enhance its handling of national security crises.
Ma was accompanied by Presidential Office Secretary-General Timothy Yang (楊進添) and National Security Council Secretary-General Jason Yuan (袁健生).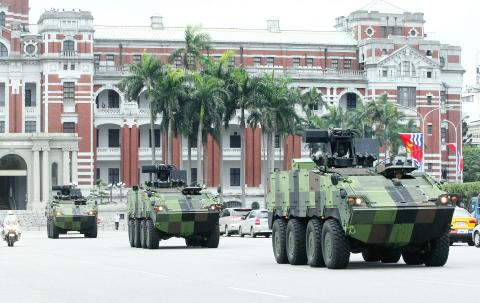 CM-32 Clouded Leopard infantry fighting vehicles carry President Ma Ying-jeou and other key personnel from the Presidential Office to observe a defense drill at the National Political-Military Command Center in Taipei yesterday.
Photo: CNA
The exercise, which lasted about 10 hours, had been planned before the May 9 fatal shooting incident of a Taiwanese fisherman by Philippine coast guard personnel, and was not held in response to the incident, the council said.
Yesterday, when meeting with members from the Korea-Taiwan Friendship Association led by group chairman Cho Kyoung-tae, Ma said his administration will insist on uncovering the truth behind the fatal incident, and demanded full cooperation from the Philippine government on a joint investigation.
"The Republic of China is a peace-loving country, but when faced with the killing of our civilians, the government will spare no efforts to demand justice, and we will not give up the effort until justice is served," he said.
A team of Philippine investigators arrived in Taipei on Monday to look into the incident. Meanwhile, a team of Taiwanese investigators led by Lin Yen-liang (林彥良) from the Pingtung District Prosecutors' Office arrived in Manila to begin its probe.
Ma said the government's sanctions against the Philippines, including the suspension of the hiring of Philippine workers, will continue until the joint investigation is over and those who are responsible for the killings are punished.
Comments will be moderated. Keep comments relevant to the article. Remarks containing abusive and obscene language, personal attacks of any kind or promotion will be removed and the user banned. Final decision will be at the discretion of the Taipei Times.