Foundation hopes to change attitudes toward assaults
As the Garden of Hope Foundation celebrated its 25th anniversary yesterday, the group announced that it would launch a campaign to challenge misconceptions that the public may have about the victims of sexual assaults.
"I was sexually assaulted when I was a child by someone in my family, but I didn't tell anyone because when a cousin who had a similar experience told her mom about it, her mom brushed it off as 'nonsense,'" Hsiao Hua (蕭華), a victim who was helped by the foundation, told a press conference in Taipei.
"Because of the experience, I never trusted men very much. When I grew up, I told a very close friend about it, but her reaction was only more harmful. She said that I was partially responsible if someone had treated me like that," she said.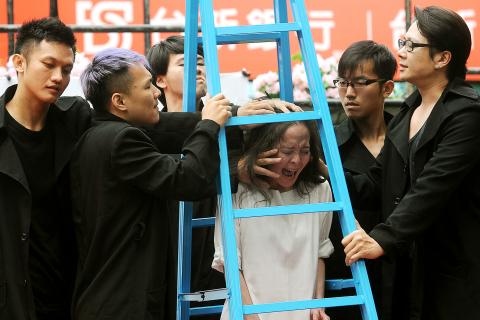 As part of its efforts to highlight the plight of victims of sexual abuse, members of the Garden of Hope Foundation act out a skit during the foundation's 25th anniversary celebration in Taipei yesterday.
Photo: Liu Hsin-de, Taipei Times
Reflecting on her own story, Hsiao said that the general attitude of the public to victims of sexual assault does not help victims, and actually puts them in an even worse position.
Foundation executive director Chi Hui-jung (紀惠容) agreed.
"Hsiao's story is not an isolated case," Chi said. "Our society is accustomed to condemning and mistreating victims of sexual assault, accusing them of lying, holding them responsible for what happened or saying it's a shameful thing."
"This only encourages victims to keep what happened a secret, which can be very psychologically damaging," she said.
The foundation is launching a campaign to try to overturn this kind of attitude toward victims of sexual assault, and it hopes they can be treated with more a positive and accepting attitude, helping them to cope, Chi said.
Chi also expressed her concern about the rising number of sexual assault cases in the country.
"According to Ministry of the Interior figures, the average number of reported sexual assault cases was 21.1 per day in 2007, but rose to 41.4 cases a day last year. This means that, on average, one sexual assault happens every 35 minutes. Last year alone, the foundation helped 25,000 victims," Chi said.
"These horrible figures show that Taiwan is far from achieving gender justice and this is what we have to work for in the future," she added.
Comments will be moderated. Keep comments relevant to the article. Remarks containing abusive and obscene language, personal attacks of any kind or promotion will be removed and the user banned. Final decision will be at the discretion of the Taipei Times.