Opposition parties fail in nuclear referendum bids
The Chinese Nationalist Party (KMT) legislative caucus yesterday continued to block various motions proposed by the opposition to scrap the Fourth Nuclear Power Plant in New Taipei City's (新北市) Gongliao District (貢寮).
At a Legislative Yuan plenary session yesterday, the Democratic Progressive Party (DPP) caucus tried in vain to place on the agenda a motion which demanded that the Executive Yuan endorse a proposal for a local referendum to be held for New Taipei City residents to determine the fate of the power plant.
The referendum proposal was sent to the Executive Yuan for ratification on April 16, as required by the Referendum Act (公民投票法).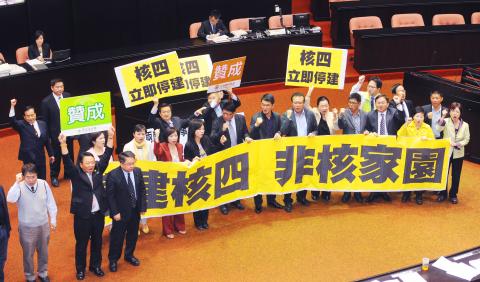 Members of the Democratic Progressive Party caucus hold up signs in protest at the legislature in Taipei yesterday after their proposal to halt construction of the Fourth Nuclear Power Plant in Gongliao District, New Taipei City, was blocked by Chinese Nationalist Party (KMT) legislators who hold a legislative majority.
Photo: Lo Pei-der, Taipei Times
In response, the Executive Yuan has decided to leave a decision on the proposal to the Executive Yuan Referendum Review Committee, though it is mandated to allow local governments to conduct local plebiscites.
The DPP, the People First Party (PFP) and the Taiwan Solidarity Union failed in another attempt to have a DPP-sponsored motion placed on the agenda, which called for an immediate halt to the construction of the Fourth Nuclear Power Plant.
Also blocked was a PFP-led proposal which called for the establishment of an ad-hoc legislative committee to supervise safety tests conducted at the power plant.
Separately yesterday, a group of DPP lawmakers filed a lawsuit against Premier Jiang Yi-huah (江宜樺), which alleges that Jiang had violated the Referendum Act.
DPP Legislator Lee Chun-yi (李俊挹) said that the government-backed referendum proposal to determine the fate of the Fourth Nuclear Power Plant — which passed its first reading in the legislature on April 26 — was invalid because according to Article 13 of the Referendum Act, a government agency cannot initiate a public referendum proposal, and the government cannot spend public funds or encourage government officials to promote such a proposal.
Saying that Jiang had directed the KMT caucus on details of its referendum proposal, the DPP lawmakers said he had violated the act.
Comments will be moderated. Keep comments relevant to the article. Remarks containing abusive and obscene language, personal attacks of any kind or promotion will be removed and the user banned. Final decision will be at the discretion of the Taipei Times.