TRA, Enoshima Electric Railway ink pass-swap deal
Passengers boarding trains on the Pingsi branch line (平溪線) in New Taipei City (新北市) with a one-day Taiwan Railway Administration (TRA) pass will be able to get a free one-day pass for Japan's Enoshima Electric Railway and vice versa after the two railways signed a contract yesterday.
The contract was signed by Enoshima Electric Railway chairman Kenji Fukaya and TRA Deputy Director-General Lu Chieh-shen (鹿潔身).
The two firms hope their partnership will attract more tourists.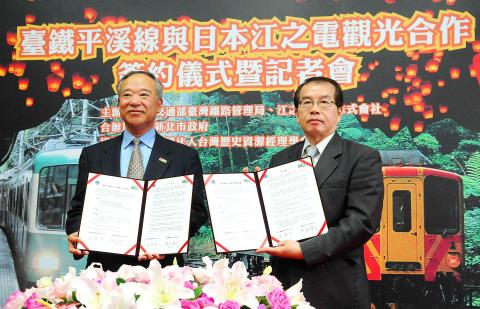 Kenji Fukaya, chairman of Japan's Enoshima Electric Railway, left, and Taiwan Railway Administration Deputy Director-General Lu Chieh-shen, pose after signing a partnership contract in Taipei yesterday.
Photo: CNA
Under the contract, Pingsi branch line passengers can present their used passes and get a one-day pass for the Enoshima Electric Railway at that railway's Kamakura, Enoshima and Fujisawa stations from May 1 to March 31 next year.
Enoshima Electric Railway passengers can get a one-day pass for the Pingsi branch line during the same time frame by presenting their passports and the used passes at the TRA's Taipei Railway Station and Ruifang (瑞芳) Station.
The special offer applies to all tourists, the TRA said.
Known as the "Miami Beach of the East," Enoshima is located at Shonan Beach in Kanagawa Prefecture, southwest of Tokyo. The Enoshima Electric Railway runs a 10km-long line connecting Kamakura and Fujisawa.
The 12.9km Pingsi Line is one of the six branch lines owned the by TRA and is the oldest of them. The rail line was originally built to transport coal, but began carrying passengers after the coalmines in Pingsi were closed.
Built along the Keelung River valley, the line runs close to several tourist attractions, including the Shifen Waterfall (十分瀑布), Pingsi's old street and the Taiwan Coal Mine Museum. It is especially popular during the annual Pingsi Sky Lantern Festival.
Comments will be moderated. Keep comments relevant to the article. Remarks containing abusive and obscene language, personal attacks of any kind or promotion will be removed and the user banned. Final decision will be at the discretion of the Taipei Times.