Value, popularity of Ma inauguration coins drop
With the international price of gold falling, people who bought gold coins commemorating the inauguration of President Ma Ying-jeou (馬英九) and Vice President Wu Den-yih (吳敦義) last year have lost NT$14,000 on their purchase, coin collectors said yesterday.
The central bank has issued 1oz (28.3g) gold coins commemorating each presidential election since the nation held its first direct poll in 1996.
The bank issued 10,000 coins last year based on the 9,000 coins sold in 2008 to commemorate the assumption of office Ma — in his first term — and then-vice president-elect Vincent Siew (蕭萬長). With gold prices soaring in 2008, the price per coin was set at a historic high of NT$54,000.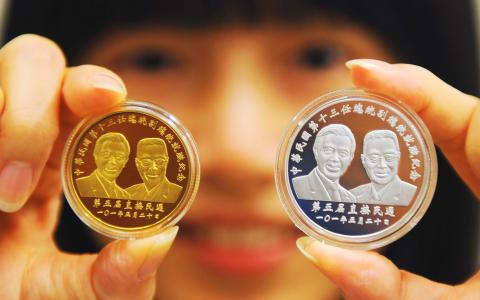 A woman at a launch event in Taipei on May 10 last year holds gold and silver coins issued buy the central bank to commemorate the inauguration of President Ma Ying-jeou and Vice President Wu Den-yih.
Photo: Lo Pei-der, Taipei Times
However, the sale of last year's coins was reportedly dampened by the government's announcement just prior to Ma's May 20 inauguration that fuel prices would be increased. Only 801 sets were sold on the first day the coins went on sale.
Democratic Progressive Party Legislator Lee Ying-yuan's (李應元) office said the less-than-sterling performance of the Ma administration and the recent string of bribery cases involving Chinese Nationalist Party (KMT) officials had greatly impacted the sale of the coins.
Data provided by Lee's office shows that as of the end of October last year, just 1,600 coins had been sold.
Coin collectors estimated that about 400 more would be sold by October this year.
Collectors said that using the current international price of gold of US$1,400 per ounce, coins commemorating the inaugurations of former presidents Lee Teng-hui (李登輝) and Chen Shui-bian (陳水扁), as well as those for Ma's first inauguration, were worth about NT$40,000 (US$1,341) on average.
That would mean that the buyers of last year's coins have lost NT$14,000 on their purchase, collectors said.
Unless the international price of gold reaches another historic high, as it did in the 1920s, not only would there be fewer buyers for the coins, but there was little room for the collectibles to gain value.
The 1996 coin commemorating Lee Teng-hui and former vice president Lien Chan (連戰) was the best-selling one, with 48,000 units sold, while the best investment and return ratio was the 2000 commemoration coin for Chen and former vice president Annette Lu (呂秀蓮), which was priced at NT$15,000 and has had an invest return rate of 167 percent to date.
Last year's coin had the worst sales and investment return rate, with barely 2,000 coins sold — about 4,000 less than 2004 coin to mark the second inauguration of Chen and Lu — and with an invest and return rate of minus-26 percent.
Comments will be moderated. Keep comments relevant to the article. Remarks containing abusive and obscene language, personal attacks of any kind or promotion will be removed and the user banned. Final decision will be at the discretion of the Taipei Times.